Dragon Mailbox Post Cover – Unique Design Toscano Sculpture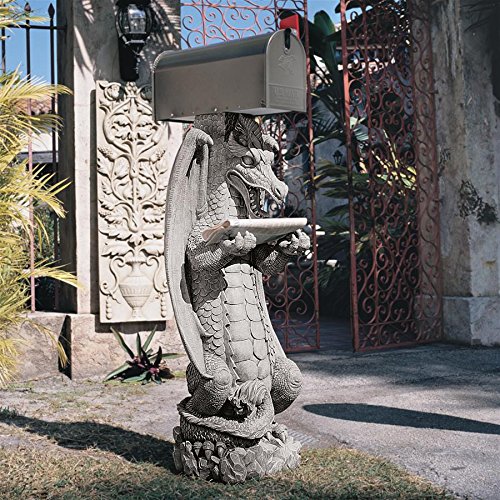 Well, the mailman just ran away screaming, again. I guess he thought that the dragon mailbox post cover we got was going to eat him. Here I thought they were only afraid of big dogs!
Go take a look at your mail post. It's probably made of wood, or possibly metal. It's plain, either square or round, and it holds your mailbox up. Functional, yes, but it's entirely lacking pizazz. Enter a dragon mailbox post cover, which hides that boring old pole to make it something fantastic.
This dragon mailbox post cover adds a little fire, fantasy, and charm to your mailbox!
Take that stuffy old mail pole and shove it – into a dragon mailbox post cover, that is. This beautiful post cover is designed by renowned sculptural décor studio Design Toscano. The design accepts your standard mailbox post through the statue, adding some mysticism and whimsy to your home.
The dragon is created from a mixture of resin bonded with actual crushed stones. This gives it that authentic stone look, while making it more lightweight and easier to mold. Design Toscano painstakingly hand paints each scale, claw, wing, and fang to make the finished piece look like a carved work of art.
Zippy (as the dragon is called) is the perfect, ferocious addition to your front yard. His claws even reach out in an extended position to hold your newspaper when delivered! How fun! If you don't want to name him Zippy, I'm sure he won't take offense either.
Even if you opt for a moat in place of a dragon in the front yard, Zippy has other great uses too. This dragon post cover works for things like a bird feeder pole, bird bath, a light post, or even for a hanging flower planter. Everyone could use a little garden dragon!
Additional Notes
Measures 12 x 16 x 41 inches and weighs 27 pounds
Designed to fit a standard 4″x4″ post and U.S. regulation-sized mailbox
Protect from water in freezing temperatures to avoid ice damage
Impressive 4.8 star rating with nearly 50 reviews!
Inside your home, all true medieval fans deserve to sit upon a dragon throne chair!
If you need to cross a moat, better take this dragon pedal boat to get across!
Take to the skies instead with this awesome giant 3D dragon kite
If Zippy is feeling lonely, why not add a giant fog breathing dragon to keep him company?
Make sure to add a fairy house so your garden dragon has a place for sprites to live nearby
Quickly add a Jack O' Lantern to your home with this Halloween pumpkin lamp post cover! It snaps over your existing light.