Pumpkin Lamp Post Cover – Quick & Easy Seasonal Decoration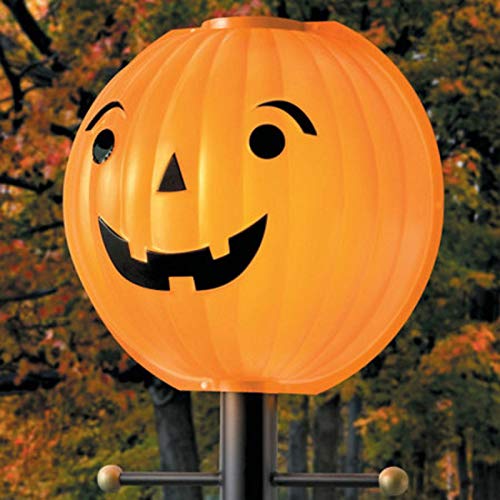 I think I've nearly finished decorating for Halloween. I just wish there were something I could do about those boring old lamp posts in the driveway. Maybe a seasonal Halloween pumpkin lamp post cover is just the ticket!
These adorable outdoor plastic lamp covers add a little festive cheer to your drab lamp posts. Snap on these snazzy seasonal shades to decorate your lights – like a pumpkin for Halloween or a snowman for Christmas. They're a simple modification that really adds to the holiday spirit.
Add a pumpkin lamp post cover to your outdoor Halloween decorations, and then quickly swap them out for the next holiday season!
This great pumpkin lamp post cover is the perfect way to add some seasonal cheer to an otherwise boring outdoor light. The plastic light covers are designed to fit over any outdoor lamp post up to 3 1/4" in diameter. This includes both electric and coach lamp styles.
The plastic cover is made to withstand the outdoor elements. It's a polystyrene body with rubber accents. This keeps it weatherproof and UV resistant, to avoid fading on the design. It doesn't matter whether it's hot or cold, you're covered!
We're featuring the happy jack o' lantern design here, which is perfect for Halloween, fall, and even Thanksgiving décor. However, there are some other great options available as well. A spooky ghost is another great Halloween choice. A snowman head is an ideal accent for winter and any of those seasonal holidays. A Santa Claus head is also available for those who wish to spread Christmas cheer!
Your lights are the welcoming beacon of your home. Whether they line your driveway, walkway, or frame your porch, adding a light cover is a great way to add a seasonal décor touch to them.
Additional Notes
Minimal assembly required; decals need to be placed on shell
Made in the USA
Pumpkin is 22″ tall x 20″ diameter
4.5 star rating – holiday cheer approved!
Hang up some color changing string lights for even more seasonal light fun
Change your mounted lights out for a smart exterior wall light, and update the color for any time of year!
Add some fall-inspired lighted maple trees between your lamps for that warm, autumnal feeling
Use this dragon mailbox post cover by Design Toscano to turn your boring old pole into a unique stone mythical beast!
For more great Halloween decorations, check out this happy ghost and pumpkin inflatable. It will match your new lamp covers perfectly!
This Halloween totem features a cat, bat, ghost, and a pumpkin and makes another great choice
If you enjoy easy Halloween decorations, this giant Beetlejuice sandworm inflatable auto inflates and features an animated tongue!
Grab some pumpkin punchers to add some real carved pumpkins to the front steps with ease!
Get inspiration for some new designs this year with the help of Realistic Pumpkin Carving
Want to add more great fall décor to your lawn? Check out our guide on how to create your own Halloween tree! Who says Christmas trees should have all the fun?