Lighted Maple Tree – Add a Warm, Natural Glow to Your Home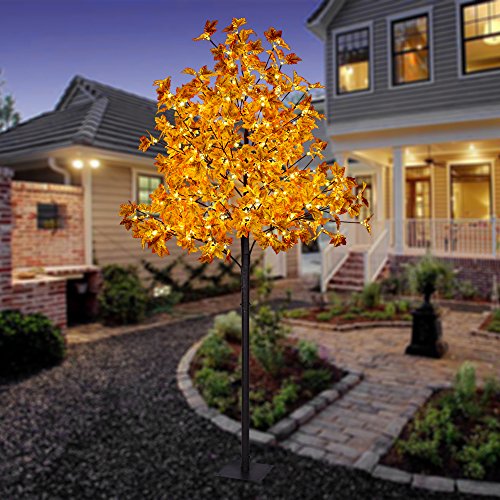 I love the look of fall foliage; the bright colors are just so beautiful. What I don't love, however, is raking up all the leaves after they fall. This Lightshare lighted maple tree is the best of both worlds. It looks realistic, but won't leave a real mess behind. This LED tree even glows at night for extra ambience!
These gorgeous Lightshare LED lighted maple trees add warmth and comfort around the home. With orange leaves and soft LED lighting, they're a perfect addition indoors and outdoors. Best of all, they require no maintenance, and there's no raking involved.
Add an autumnal glow to any home with the help of a Lightshare LED lighted maple tree!
It doesn't matter where you live; this Lightshare lighted maple tree will bring a natural fall feel to any home. No green thumb is required to keep these trees looking great, just a power source! The linen leaves are cut to look like real maple leaves, in lovely autumnal shades of orange.
Plug in the tree, and the 264 warm white LED lights will provide the perfect glow. Each Lightshare tree is 8 feet tall, making them ideal for a variety of locations. Line the walkway or driveway, add some to your porch, or even place trees around the fireplace. They're outdoor and indoor safe, and add a charming touch.
A brown trunk leads down into a 10" x 10" square base. Bury it in gravel to secure outdoors, using stakes if they'll be exposed to wind. Four holes at each of the corners allow for screwing into wood or a frame for additional security. If you need to store this light up tree away, the middle of the trunk may be collapsed for easier storage.
Additional Notes
Measures 31" from base to start of leaves
110V (US) power supply, UL safety certified
No on/off switch – plug and unplug to control lights
Use a Kasa smart plug to add Alexa control functionality, if desired
Branches are bendable metal, and will support lightweight ornaments, if desired
Also available in a 6 ft height tree
Weighs just over 15 pounds
Top 20 best seller in Artificial Trees on Amazon
4.7 star rating with over 1,600 reviews!
Add some smart pathway lights to create a well-lit outdoor area
If you're handy, installing a smart outdoor wall light will create a bright, inviting porch
Accent your new trees with some color changing string lights. Update them for every season with the push of a button!
These solar flower lights are great to fill space around the base of trees and other planted areas
If your trees are accenting your fireplace, why not treat yourself to a KFC fire log? The warm smell of fried chicken goes perfectly with fall!