Solar Flower Lights | Outdoor LED Garden and Yard Lights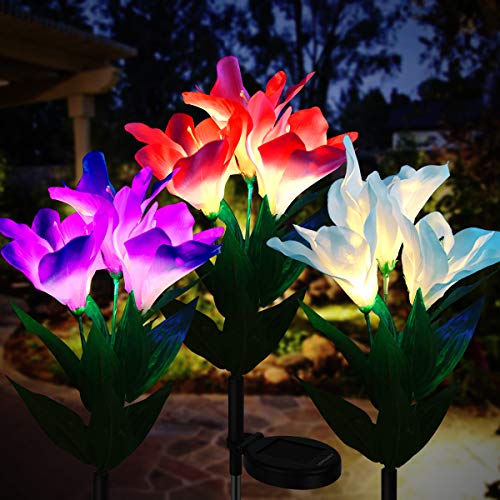 Every time I try to walk up the driveway at night, I'm always tripping on some fallen tree branch or getting smacked in the face by your hibiscus plant. If only we could light a path to the front door, but every time I buy a timer light, it goes on the fritz. Let's compromise. We'll buy these Solar Flower Lights and I'll be able to see at night while you get to have additional flower decorations. Will these solar lights work in the winter though?
It's common for people to wonder if their outdoor lights will work during the winter months. The short and easy answer is that the solar lights indeed will work in winter assuming that the solar panels receive enough sunlight during the day. The solar panels will power the batteries for night time use. Expect around 8 hours of battery life in summer months and 5 hours of life with winter sunlight charge.
Light your yard at night with these solar flower lights
These solar flower lights provide an easy way to light your backyard, garden, or walkway. No need to fuss with wires or timers as each flower light comes equipped with a rechargeable solar battery. In fact, this version of the outdoor solar lights comes with a larger solar battery. Beneficial on two fronts as you have a solar battery suitable for longer use and the ability to store more solar energy for illumination at night.
With no wiring necessary, you have the freedom to "plant" your solar flower lights wherever you please around your house. Toss a few into your flower garden and illuminate your daffodils, tulips, and orchids at night. Plant them around your patio to give you a nighttime place to hang out with friends without being in the total dark. Simply insert the flower lights along your walkway as a way to guide your guests safely to their cars when they leave for the evening.
Rated IP65 waterproof, these solar flower lights can withstand your outdoor weather conditions. Technically the IP65 rating is for "water resistant", but you aren't planning to submerge these solar lights by putting them in the bottom of your pool!
Additional Notes
Included in the package are 3 different colored flowers – white, red, and blue.
Make sure to flip the battery to "on". Your solar lights will charge during the day and light up automatically at night.
Rated #46 for Amazon 'Outdoor In Ground Lights'.