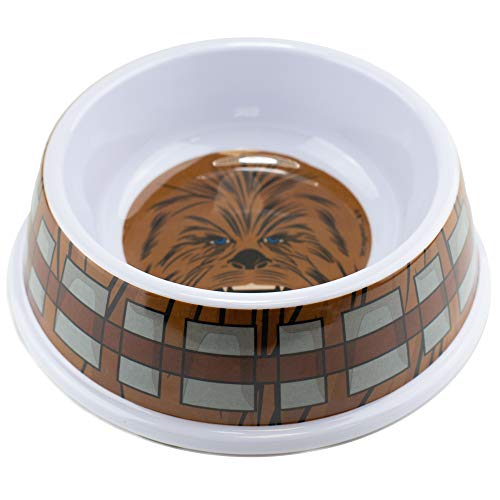 Forget about the Dark Side, I'm heading to the bark side instead. I got this Star Wars Chewbacca dog bowl for my dog. It only seemed appropriate that my furry friend gets a bowl with the universe's favorite Wookie on it!
This dog bowl is made from melamine, which is generally considered safe for pets. However, melamine can experience adverse reactions from contact with cyanuric acid. While this acid is most often found in pool chemicals, it may be in some dog foods as well. Always read ingredients carefully.
Take your pooch to a galaxy far, far away with this Chewbacca dog bowl!
This adorable Chewbacca dog bowl is styled after the iconic Star Wars character. The melamine bowl features Chewy's face at the bottom. Around the perimeter, you'll see the pattern of his infamous bandolier circling the bowl. A rubber base prevents sliding along the floor as well.
If your tiny Wookie terror is still pushing the bowl around, consider grabbing a placemat for underneath. This Star Wars placemat matches perfectly. Plus, it also helps to keep any drips and drools off your floor!
At 7.5" in diameter and 2.5" high, this Wookie bowl is designed for small to medium dogs. It would work for a cat as well, if preferred. It holds 2 cups in total, or 16 fluid ounces. While this bowl can be used for food or water, make sure to use it indoors or far away from the pool.
If your hairless dog or cat is feeling self-conscious about the Chewbacca bowl, never fear. An R2-D2 and Stormtrooper version are available as well. That's also great if you have more than one pet, so you can tell them apart. Alternatively, mix and match for food and water to add even more intergalactic fun!
Larger dogs may prefer a bigger bowl. This ceramic Mandalorian Star Wars bowl featuring The Child might be more suitable. Whether you call him baby Yoda, the Asset, or Grogu, this adorable little one can grace your dog bowl too. Just, keep the frog eggs away, would you?
Additional Notes
Officially licensed
Dishwasher safe top rack, though hand washing is recommended to preserve design
Weighs 6.4 ounces empty
Top off a tasty dinner by treating your dog to some Bonne et Filou gourmet dog macarons
Keep them busy during the day with an Outward Hound tornado puzzle dog game. Make them work for those treats!
Speaking of treats, whip up a fresh batch for your pup with this dog treat maker
If your dog keeps plowing through food and treats, try a lick mat. This slow feeder makes them stop the inhaling. It's also a great distraction for grooming!
Missing your pup while you're at work? Try the Furbo pet camera – you can even launch a treat with it!
Heading out for a long time? This Petsafe automatic pet feeder will dispense up to 24 cups of food to make sure you're covered and Sparky is fed.
Feel like coordinating with your dog's new bowl? Check out this Chewbacca messenger bag, perfect for carrying all your stuff around Chewy style!
Cuddle up on the couch with this Chewbacca blanket throw. Stay cozy and cuddle with the pups for movie night!