5 in 1 Storkcraft Convertible Crib Playhouse Grows w/ Child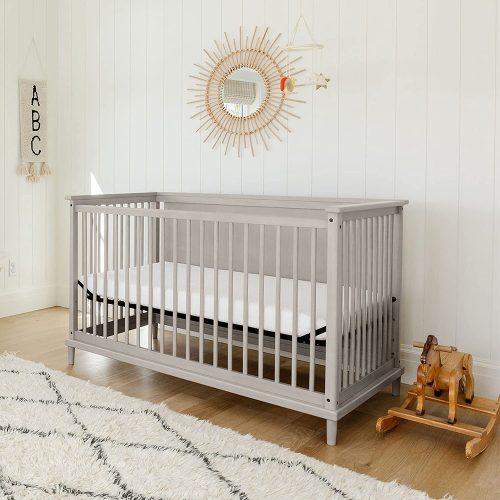 What did you do with your old crib when the kids outgrew it? I don't have space to store it and just don't have use for it anymore. You didn't have to worry about that with your Storkcraft convertible crib playhouse because they're still using it?
The Storkcraft convertible crib playhouse is the perfect piece of furniture that grows with your child. While it begins as a normal baby crib, it converts to a toddler bed and a playhouse. Instead of having to work through multiple beds, use this 5-in-1 to keep kids happy as they grow.
While kids may grow like weeds, you'll never have to worry with a convertible crib playhouse!
Anyone with young kids knows the struggle of them growing out of everything. While it can't help with clothes, the Motherly by Storkcraft convertible crib playhouse does solve the bedding woes many parents face.
This crib is a 5-in-1 bed that converts into all these great pieces of furniture:
Baby crib
Daybed
Toddler bed
Full size bed with headboard
Full size bed with headboard and footboard
A playhouse
That means that it will grow with your child from infancy through their toddler years – and even serve as a play place beyond that!
An adjustable setting includes three choices for mattress height, so you can choose the most appropriate for your growing child. Please note that the mattress is not included and will need to be changed out for larger conversions.
The crib is constructed from sturdy pine wood, coated in a non-toxic finish. Rest assured whether sleeping or playing, your little ones will be safe and comfortable.
If you're looking for a safe, versatile crib that will grow with your child through many of their first years, then look no further than Motherly by Storkcraft!
Additional Notes
Storkcraft full-size crib conversion kit sold separately
Crib available in brushed fog (pictured) or white colors
Maximum child height for crib stage is 35 inches
Weight limit for daybed and toddler bed stage is 50 pounds
Fully assembled, measures 55.98" W x 31.85" D x 35.67" H and weighs about 71 pounds
Safety certified by Juvenile Products Manufacturers Association (JPMA)
Spot clean with damp cloth as needed
You can't have a baby without dirty diapers, and nothing is more popular than the steel odor locking Ubbi diaper pail!
Keep parents and the baby happy with this hilarious bacon baby teether
Help them sleep more soundly in the crib with a white noise machine
Afraid of the dark? Squeeze a gummy bear night light to keep the monsters away
On the go? Bring along an inflatable unicorn bed for fun sleeping on the road
An octopus bed rail is an adorable way to help keep toddlers from rolling out of their first "big kid" bed
Consider upgrading to a triple bunk bed with slide when the kids get older (especially if they share a room)!
Check out more of the must have baby products to outfit your nursery