Gummy Bear Night Light Your Squeezable Night Time Buddy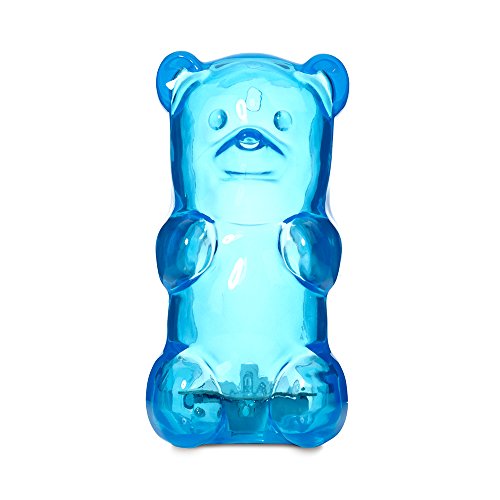 Yinz want some gummy bears? You know you can't have that much sugar right before bedtime. You'll never fall asleep! Look, I know gummy bears are great, but you'll have to wait until tomorrow to eat some. You know what you can have right now though? This gummy bear night light! You might not be able to eat this one, but it will help you fall asleep.
Night lights can be a helpful tool for both parents and children. A night light provides low level lighting, which can allow a parent to see enough to tend to a baby, while not waking them. Night lights can help slightly older children fall asleep easier and make them feel more comfortable. Many nightlights offer timers that shut off after a certain time, to encourage healthier sleep patterns.
This gummy bear night light will be your child's favorite nighttime friend!
Gummygoods has created this adorable gummy bear night light that's just perfect for your little ones. It's shaped just like the real gummy bear candy, but this version isn't edible. Instead, this gummy light is made from a squeezable soft plastic that your child can happily squish. Just by squeezing the gummy bear's tummy, you or your child can turn on the night light. The internal LED light emits a soft glow to help your child fall asleep. After 60 minutes, the light turns off to promote better sleeping habits at night. If your child wakes up in the dark night and is scared, they can simply squeeze the gummy bear again for more light!
This night light can be plugged into the wall for an all-night glow (cord not included). You can also mount it to the wall! These options are great for parents, grandparents, or caretakers to have easy access to a soft room light at night. This gummy bear night light is also highly portable! Simply insert two AA batteries (not included) and it's good to go anywhere. You can take it to bed, to a friend's house, even to summer camp! When the batteries run low, the bear will blink so you know they need replacing. Just pop in a new set, and it's good as new.
A gummy bear night light makes a great gift! Children, parents, and grandparents alike will love this cute and cuddly bear. It's great for a baby shower, Christmas, a birthday, or an Easter present! Kids will love the fun shape, and parents will love the light it provides.
Additional Notes
Featured here in blue, but green, pink, purple, and red are also available
Made of TPE and ABS plastics
Measures 3.25 x 3.5 x 7 inches and weighs 8 ounces
Best seller in Nursery Night Lights with a 4.2-star rating!
The Boon Glo nightlight lets your child remove glow in the dark balls from the lamp and play with them!
While this night light isn't edible, with a homemade gummy maker, you can create your own sweet gummy bear treats!
Take your gummy light to bed in this Storkcraft crib. This is a 5 in 1 bed that grows with your child from crib to toddler bed to full size bed. It even functions as a playhouse!