Auto-Tune Karaoke Machine – Sing Better than Ever Before!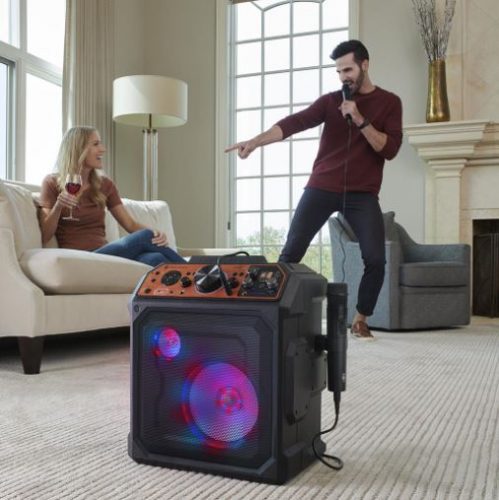 I've had it with your complaints about my singing. Just because I'm a little off key doesn't mean I shouldn't have a good time too! Thankfully for you, this auto-tune karaoke machine is about to make me sound ten times better!
Many modern karaoke machines offer auto-tune, which is probably a huge relief to most listeners. That old karaoke machine collecting dust in the corner of your favorite dive bar, though, probably doesn't have it. If your pitch is as bad as mine, stick to the modern marvels to fix it.
Find out if you're the next pop sensation with an auto-tune karaoke machine!
My singing voice is about as pleasant as a rooster being rubbed over a cheese grater. Now that I've put that image in your mind – the good news is there's a way to fix it. The auto-tune karaoke machine will carry the tune, so you don't have to!
That's right, this karaoke machine uses auto-tune software that's used by the music industry. It fixes pitch and makes you sound way better than you actually are. Even if you're a good singer to start with, you'll still sound better with a little help.
The machine connects via Bluetooth to a smartphone or tablet. It will play music via this connection from your library, or a music streaming app of your choosing. Once the music is going, your smart device will even display the lyrics so you can sing along.
Belt out your favorite tunes with the assistance of over 1,000 voice effects. Sound like your favorite country star complete with twang, or embrace the hip beats of being a Barbie Girl. If I just got that song stuck in your head, you're welcome.
An 8" woofer and 3" tweeter support excellent sound quality, while the LED lights make it feel like a rave. That is, if you were to have a rave in your living room.
Two microphones are included, so your favorite duets are fair game. It's just like my favorite karaoke bar, only with less horrible singing. There's even an 8GB USB drive included for storing your recordings. Who knows, maybe you'll become the next hit singing sensation!
Additional Notes
Includes a remote
Wireless, with AC (US plug) charging
Runs about 25 hours on full charge
Measures 16 3/4″ L x 14″ W x 9 1/2″ H and weighs about 20 pounds
Prefer to listen to a band? The self-contained hootenanny is ready to play all your favorites on a 17 piece band!
Instead of singing, just relax and listen to your tunes on the all media jukebox. It plays from nearly any musical format!
Upgrade your older speakers to modern technology with this Bluetooth speaker adapter. Don't replace them when this simple device makes them smartphone compatible!