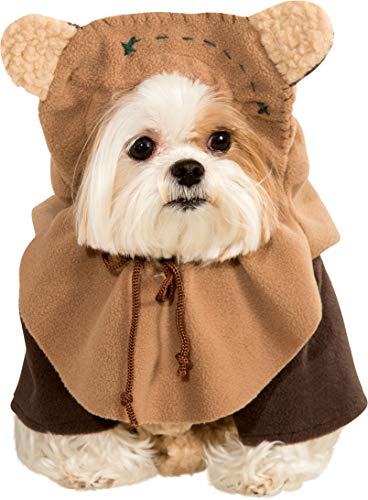 I saw this adorable video of a dog running in a little bear costume. From the front, it made it look like the teddy bear was running!  I decided to take a page from that book and get Fido a Star Wars Ewok dog costume this year. Ewoks count as bears, right?
Thankfully you won't have to travel all the way to Endor to find an Ewok with this adorable pet costume. Just put it on your dog (or cat, we're not judging) and you'll have a fuzzy, adorable companion. Don't let them near any of those weapons the Rebel Alliance left behind, though.
Take your pet on a journey to the forests of Endor with this Star Wars Ewok dog costume!
One of the most universally adorable creatures in the Star Wars saga are the Ewoks. Now you can bring your very own version home when you dress your pet in the Ewok dog costume! This super cute costume is perfect for Halloween, themed parties, and pet friendly Comic-Con experiences.
The Ewok costume is comprised of two pieces. The first is a step-in brown bodysuit, which closes with three squares of Velcro under the belly. Your dog's paws will extend out the open bottoms of the legs. The second piece is a hood, complete with ears. Simply slide it over the head, and tighten the drawstring.
Rubie's Ewok pet costume is available in several sizes, ranging from small to X-Large. Please follow the manufacturer's sizing guidelines instead of guessing based on breed. Note that even correct sizes may need small adjustments to fit correctly on certain shapes of dogs.
This polyester costume may be spot cleaned as needed, and stored away for the next time. If you're not a fan of Ewoks (seriously, is that even possible), then don't worry as there are other great Star Wars designs to choose from for your dog:
You're sure to find the perfect one for your pet. It's also great for multiple dog households, so you can dress each up differently. If you're a fan of the running dog costume style, many of the other characters offer the same look.
Additional Notes
Officially licensed
Top 20 best seller in Dog Costumes on Amazon
Rated 4.2 stars with over 2,700 reviews – Ewok approved!
Now that your dog is ready to explore Endor, let your child get in on the fun with this inflatable BB-8 costume!
If you want to go on a tropical trip with your dog, then check out this Hula Girl pet costume complete with grass skirt and coconut bra!
For the Star Wars pet in your home, get them this great Chewbacca dog bowl
Going out trick or treating? Be sure to bring along your lightsaber umbrella in case of rain
Enjoy dinner before you go with these lightsaber chopsticks. Pro tip, they also work great as hair chopsticks for a quick and easy Star Wars look
Or, review our full guide on where to buy lightsaber chopsticks featuring a variety of colors and saber hilts based on your favorite characters!
Carry your supplies in this awesome Chewbacca messenger bag
If your dog is more costume ready than you this year, never fear. A Chewbacca blanket is the quick way to make a last minute costume for yourself!