Smillow | Scentco Smillows Scented Stuffed Pillows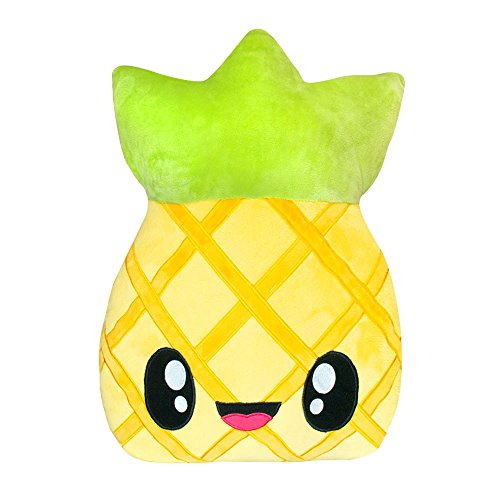 Why does it smell like pineapples in here? Did yinz spill a Pina Colada on the couch when I wasn't looking? It's our new Smillow scented accent pillow you say? This is so neat; I wonder how they get a pillow to smell like that? I just hope the dogs don't try to eat it!
Scented pillows can be made by either embedding scent in the pillow material, or via a scented insert that's placed into the pillow after the fact. Different smells are used for different purposes. Lavender, for instance, is associated with a calming effect to help you sleep. Other scents such as fruit or baking smells, can make your home smell warm and inviting.
Smillow scented accent pillows from Scentco bring your favorite smells to your relaxation area!
Scentco Smillows are an innovative accent pillow that are offered in a variety of fun scents. These soft pillows are made from a velboa plush material for maximum cuddle effect. Smillows feature scented microbeads sewn right into the fabric of the pillow. They provide a wonderful scent that can last for 2 years, even with spot cleaning as needed. This accent pillow makes your couch or bed take you away to the tropics!
Smillows stand about 15" tall, so they're the perfect size for an accent pillow. Use them on your couch, armchair, bed, or in other sitting, reading, or play areas. Scentco sends your pillow vacuum sealed to ensure that you receive a fresh and super scented Smillow! Once you open the package, simply give it a little fluff, and it pops right to life. Your Smillow is ready to be your deliciously scented smiling companion every time you walk in the room.
We're featuring the pineapple design here, because it's totally adorable and makes us think of a vacation in the tropics. But Scentco makes a total of 13 unique designs for you to collect! Check out this cupcake design if you love baked goods. If you like summer fruits but pineapple isn't your jam, how about a Watermelon instead? Maybe you want to reminisce about the campfire with this s'mores version. There's a bunch of great designs to choose from.
These accent pillows make a fun gift too! Kids, teens, and adults alike will love these cute pillows. Smillows brighten up a room, and there's a pleasing scent for everyone. Consider one for Mother's Day, Father's Day, Valentine's Day, birthdays, Christmas, or even as a cute housewarming gift. A Smillow can put a smile on anyone's face!
Additional Notes
Manufacturer recommended for ages 1+
Pineapple measures 14 x 4.7 x 16 inches and weighs about 10 ounces
Best seller in Kids' Plush Toy Pillows on Amazon with an impressive 4.6-star rating!