Ameriwood Fireplace TV Stand – Organize & Warm Your Home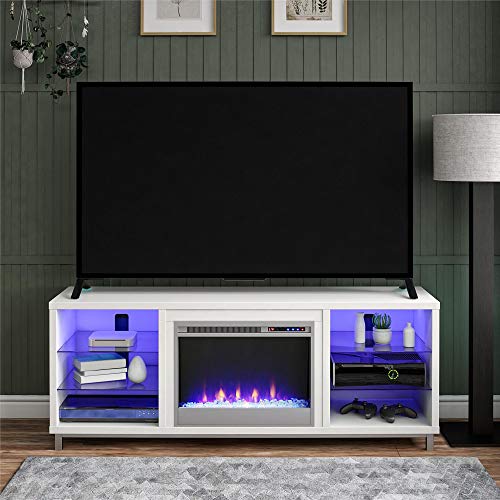 I've been trying to figure out how to set up the living room just right. I'd like to get a fireplace added, but then I don't know where to put the TV. I don't want to wall mount it either. Perhaps an Ameriwood fireplace TV stand is just the thing.
Unlike hanging your TV over a real fireplace, a fireplace TV stand is not bad for your TV at all. There's no smoke, real flames, or excessive heat to cause damage. In fact, in a fireplace TV stand, the heat is entirely optional and is contained to ensure your electronics remain safe.
Use an Ameriwood fireplace TV stand to hold your electronics while adding warmth and comfort!
There's nothing like cuddling up in front of the crackling fire to watch your favorite movies. Luckily, with an Ameriwood fireplace TV stand, it's easy to do both in one convenient unit!
This Lumina stand supports flat panel televisions up to 70" (or 120 pounds) on the top surface. The cabinet itself is a combination of MDF, laminated particle board, and hollow core. The hardware is all metal, for weight support and durability.
Six lighted glass shelves with a 20 pound capacity each allow for storage of all your electronics needs inside this entertainment center. Whether it's a gaming console, DVD player, cable box, games, movies, or décor, you can store it all.
Where the Ameriwood Lumina TV stand really shines is in the integrated 23" wide fireplace insert. This insert adds a functional fireplace right into the largest focal point of your living room!
Use the handy remote to toggle heat on or off depending on the temperature. The fireplace adjusts from 64-82 degrees Fahrenheit and can heat a room up to 400 sq ft comfortably. Automatic temperature controls and timer shutoff are also available for convenience.
The brightness of the flames is also adjustable. Whether you're lighting up the room or turning the lights down low, it covers it all. Since the bulbs are LED, you can expect up to 50,000 hours of enjoyment!
Additional Notes
Cabinet available in white (pictured), gray, or black
Requires 120V (US) AC power connection; draws 1400 Watts
Rated 4,600 BTUs
Also has touch panel buttons for use in lieu of remote
Requires assembly upon delivery (2 adults recommended)
Fully assembled, the entertainment center measures 24.875"H x 64.75"W x 18.875"D and weighs about 122 pounds
Impressive 4.7 star rating with over 5,500 reviews – buy with confidence!
Finish your space with a Sobro smart coffee table and then you'll really never want to leave the room!
Need a new TV? This Samsung Frame QLED TV will let you watch your favorites, and then display artwork when not in use. How classy!
Prefer a built-in fireplace? Check out this Homedex electric fireplace insert instead
For a small, table-sized option, a fireplace lamp is the perfect choice!
Make sure to keep your glow in the dark constellation blanket close at hand for snuggling up
If you'd like to fill those shelves, check out this Playstation Days of Play bundle to get your game on!