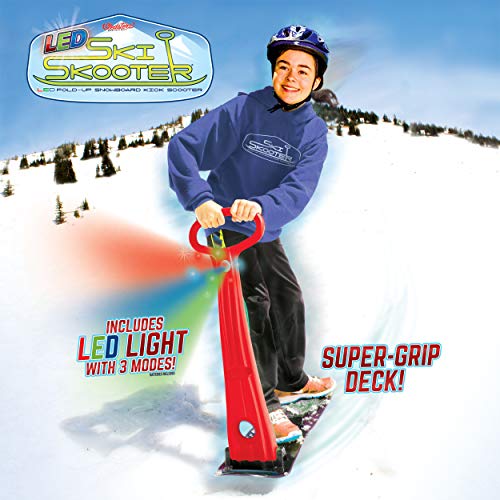 No, you can't go ride your bike down a snowy hill, that sounds terribly dangerous. I know, why don't you try out your Geospace ski scooter instead? It's a kick scooter style toy that's designed for snow, so I think you'll manage much better with it.
The ski scooter features a deck like a snowboard with handlebars like a scooter. Push off with one foot, then stand on the super grip deck to carve your way down the slopes. The ski scooter is appropriate for children over age 6, teens, and adults, with a maximum user weight of 220 pounds.
Get into snowboarding with this compact, portable Geospace ski scooter!
The Geospace ski scooter is the perfect way to hit the winter slopes quickly and easily. Unlike toting around a big snowboard, this collapsible scooter folds down easily for transport and storage.
Once you're ready to slide, just pop it open, and you're ready to go. Simply push off with one foot, then place both feet on the deck once in motion. Use your body to shift side to side to steer, just like a real snowboard. The handlebar is there just to help with balance.
Ski scooters are perfect for snow-covered hills and mountains, or even on flat, snowy ground. It works best on compacted snow, but you can continually push off like a kick scooter to navigate neighborhood sidewalks.
Aside from winter fun, you'll find use for this scooter in the summer too. It also works on grass and sand! I see myself cruising some sand dunes for sure!
This scooter board is made from durable polyethylene that offers just enough flexibility to withstand the cold. The front includes an LED light with 5 colors and 3 modes for additional visibility in snowy conditions.
Additional Notes
Comes in assorted colors, or choose your specific color between red, blue, green, or purple on this ski scooter listing
Measures 36 x 9.75 x 31 inches and weighs about 3.5 pounds
Recommended for ages 6+ and a helmet is always advised for safety
Board surface is 9.06″ wide x 36.61″ long
Passes all ASTM963 USA safety requirements
Rated 4.3 stars with over 500 reviews!
Wear your sledding equipment instead with Sled Legs!

Sled Legs Wearable Snow Sleds – Fun Winter Accessories with Leg Support – Family Friendly Winter Activities – Exciting Winter Fun in The Snow (Winter Blue, Large)

Hit the hills inner tube style with a dinosaur snow tube 

FindUWill Inflatable Dinosaur Snow Tube, 64.9 inch Giant Winter Sled, Reinforced Handles & Double Layer Bottom Sled, Animal T-Rex Snow Sledding for Kids and Adults (Dinosaur)

Pretend you're snowmobiling instead with the Funboy inflatable snowmobile sled 

FUNBOY Giant Inflatable Snowmobile Snow Sled - Bundle, Pack of 2, Winter Snow Sled, Perfect for Holiday Adventures

If you really did want to ride your bike in the winter, try out the Ice Cycle. This bike features skates for pedaling along on your favorite frozen water!

The Buffalo Icecycle

Developed in Buffalo, NY for fun, wintertime excursions across the frozen canals, this is the ice bike. The ice bike has a skate blade where a bicycle's front wheel is typically located and four additional blades on the frame that surrounds the base of the bike. Pedaling rotates the studded...

Interested in a regular kick scooter for summer? Check out the Jetson kick scooter for kids, with 300 LED lights for style and safety!

Jetson Electric Bike Jupiter Folding Kick Scooter, LED Light-Up, Adjustable Handle Bar, for Kids Ages 5+ , Black