Ice Cycle – Ride Your Bike Across Frozen Lakes and Rivers!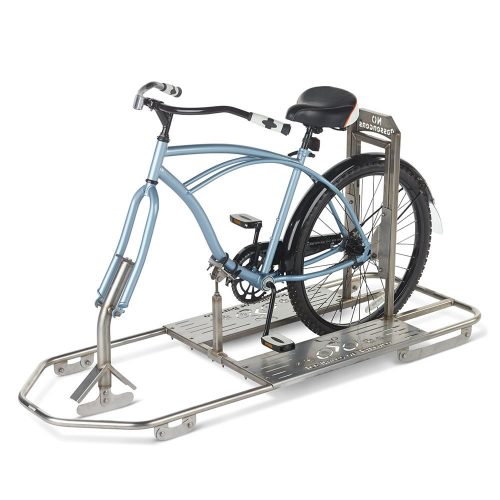 I love watching all these folks out ice skating and enjoying the winter. I, however, am about as coordinated as a buffalo and don't think that's for me. Now, if they made some sort of ice bicycle, that would be up my alley. They do, and it's called the Ice Cycle?
The Ice Cycle is an ice bicycle designed to work on your favorite frozen waterway. It works thanks to 5 ice skate blades, coupled with a studded tire to provide propulsion. You sit, pedal, and steer like a normal bicycle, and pedal backwards to come to a stop.
Ice Cycle is the ice bike that's safe and easy to ride for wintertime fun!
The Ice Cycle makes the winter activity of skating easier for those of us that lack balance. That's right, now you can sit, pedal, and ride across the ice with ease!
An ice bike works much like a normal bicycle, but the tires have been replaced with skates. This model features one skate in the front that's controlled by the handlebars to steer. Four skates around the frame disperse weight. A studded tire in the rear is what provides the forward movement.
The frame and skates are all made from stainless steel. They're extremely durable, safe for use in the elements, and rust resistant for years of enjoyment.
Simply sit on the Ice Cycle like you would any normal bike, and pedal to move forward. Turn the handlebars in the direction you want to go, and the bike will follow. Pedal backwards to slow and eventually come to a complete stop.
Ice bikes are safe to use as long as the ice is thick enough in the desired area. The bike itself weighs about 105 pounds, and you'll need to factor in your weight as well. Ice around 4" thick can support 200 pounds, while 5" ice supports nearly 800.
Always make sure to check an ice thickness safety chart and measure with an ice auger before proceeding.
Additional Notes
Choose between orange, blue, or green frames
Bike measures 45″ H x 24″ W x 67″ L
Plan on riding in the snow this winter? If so, then a snow e bike is perfect for inclement weather!

iDea Electronics P30-26 Snow e-Bike in Black/orange

IDEAPLAY Electric Bike 26"- 350W Electric Bicycle With Removable 36V- 8A Lithium Battery 20 mph Adult Electric Bicycles With 21 Speed Orange-Black Color | iDea Electronics P30-26 Snow e-Bike in Black/orange

Hit the waves in the summer on this water bike boat, which combines a bicycle with a pontoon!

DIVTEK Water Bikes, Inflatable Kayak Bikeboat for Lake, Water Sports Touring Kayaks Sea Pedal Bicycle Boat for Sport Fun Fishing

Got handlebars? Then you'll enjoy this bike phone mount to keep your device close at hand

visnfa New Bike Phone Mount with Stainless Steel Clamp Arms Anti Shake and Stable 360° Rotation Bike Accessories/Bike Phone Holder for Any Smartphones GPS Other Devices Between 4 and 7 inches

If you're not the type to work up a sweat, you may want to grab a Sustain heated jacket to stay warm out on the ice!

HOMICREATIONS Sustain Heated Jacket in Black, Size Medium

This is the ultimate jacket that is full of features and functions but yet designed minimally. Simple and minimal lines on the outside, details all over the jacket inside out. Light weight but yet warm to keep you agile and move around without weighing on your body. 12 pockets, largest fits 9.7"...