Snow E Bike – Fat Tire Electric Bicycle for Winter Weather Rides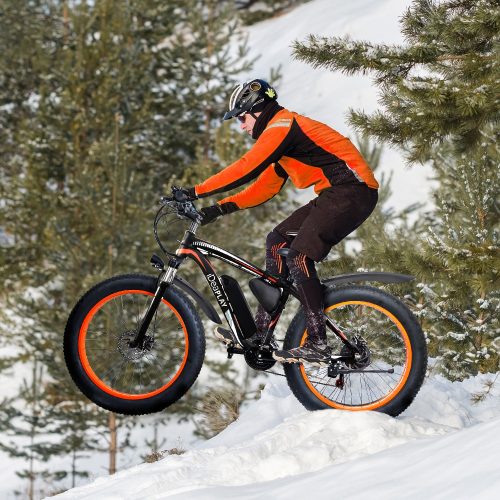 I love my electric bicycle. It's the perfect match for my work commute since I get to avoid that rush hour traffic. I had some problems, though, when the snow started falling. This snow e bike has been a lifesaver for the winter!
A snow e bike is an electric bicycle designed specifically for use in snow. Large tires distribute weight better for ease in traveling over snowy surfaces. Just like a regular e bike, though, they still assist you with additional power over a standard bike, making for a less stressful ride.
Ride your electric bicycle all winter long with this innovative snow e bike!
If you want to ride an e bike in the winter, look no further than the snow e bike. This adult-sized bike is everything you know and love about an electric bicycle but equipped for winter weather.
The bike is a 21-speed bike, reaching a maximum of 20 mph. It's powered by a removable 36V battery for assisted riding. This is great for long rides, difficult hills, and other complicated travels where you need a little help. The bike handles gradients up to 30 degrees!
On a full charge, you can expect the battery on the e bike to last between 22-40 miles. This depends on your speed, as well as how much assistance you need over your manual pedaling.
A comfortable and ergonomic thumb shifter allows you to flip through 7 different settings. No messing around with gears or manual adjustments! Like many bicycles, you'll also find the clamp-style brake controls easily reachable on the handlebars.
With 26" tires and an adjustable seat, this bike is designed to accommodate a variety of sizes. People between 4'9" and 5'7" will find it most comfortable, with a maximum recommended rider weight of 265 pounds.
What is an electric snow bike?
An electric snow bike is a power-assisted bicycle also known as an e bike that is designed to work specifically well in snow. Using large width tires and a lot of air, they distribute weight for traversing snow. The tire treads are also designed for better grip in snowy weather.
You can use a snow e bike on the sidewalks and roads during your wintertime commute. However, they're also great for exploring trails such as hiking trails or cross-country ski trails. They're a great way to get out and exercise in the winter.
Are electric bikes good in snow?
While a traditional electric bike is not good in snow, this snow e bike is designed specifically for it. Different tires are the primary difference which makes it snow compatible. Additionally, a sealed compartment for the battery combats the moisture and cold of winter weather.
This e bike even features a headlight for visibility in inclement weather. A built-in storage pouch allows you to carry emergency supplies and essentials as well.
Additional Notes
Built on a lightweight aluminum frame, but the bike still weighs about 50 pounds
Measures about 76" long, 42" tall (including handlebars), with 28" wide handlebars
Some assembly required
Includes manual, charging cable, emergency toolkit, and manual tire inflator
Only available in black/orange color
If you're planning on hitting the ice, check out the Ice Cycle instead. This modified bike is made for pedaling your way across frozen waterways!

The Buffalo Icecycle

Developed in Buffalo, NY for fun, wintertime excursions across the frozen canals, this is the ice bike. The ice bike has a skate blade where a bicycle's front wheel is typically located and four additional blades on the frame that surrounds the base of the bike. Pedaling rotates the studded...

For your winter hiking needs, grab these retractable spike boots. Flip them on for traction when you need it and flip them back for a normal boot when you're done!

4x4 Outsole Women's Commuter All Weather Boots, Color Black, Size 9

No more cold fingers during winter activities thanks to the Karecel electric hand warmer 

KARECEL Rechargeable Hand Warmers, Electric Hand Warmer 5200mAh Powerbank Reusable Handwarmers, Portable USB Hand Warmer Heater Battery Pocket Warmer, Best Gifts for Men and Women in Cold Winter

In need of some extra body heat? Grab this Sustain heated jacket to keep your core snuggly warm

HOMICREATIONS Sustain Heated Jacket in Black, Size Medium

This is the ultimate jacket that is full of features and functions but yet designed minimally. Simple and minimal lines on the outside, details all over the jacket inside out. Light weight but yet warm to keep you agile and move around without weighing on your body. 12 pockets, largest fits 9.7"...