Jetson Kick Scooter for Kids – 100 LED Lights for Style & Safety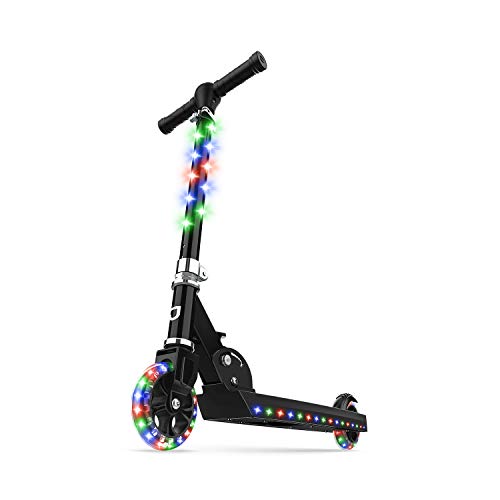 What do you mean you missed the bus again? Well, I don't have time to take you to school today. I've got a meeting to get to. You'll just have to hop on your Jetson Jupiter kick scooter for kids and get yourself there today!
A kick scooter is a small, lightweight scooter. They are easy to balance on and steer, making them a good choice for kids. However, kick scooters are available in adult sizes as well. They're a good scooter for traveling short distances, much like you would use skates, a skateboard, or a bicycle for.
Your kids will love the freedom to get around on their Jetson kick scooter for kids!
The Jetson kick scooter for kids is the perfect toy for getting out and enjoying summer. Whether it's a trip to the corner store, the neighbor's house, or even to school, this scooter is designed for fun. At only 6 pounds, it's an incredibly lightweight kick scooter which makes it easy to carry anywhere. The handles even fold down so it's compact for storage.
A sturdy, wide deck makes balancing easy, and a durable frame provides safety and support. Speaking of safety, this scooter is equipped with 100 LED lights in the handle, deck, and wheels. Not only does it look awesome, but this helps to improve visibility in low lighting conditions. Don't forget to switch the lights off when not in use, to save on battery life.
Two 4" wheels and a rear foot braking system are the main components of the kick scooter. The simple control system is easy to manage for most kids. Best of all, the handlebar is adjustable so it can grow with your child. As we all know, they grow like weeds, so rest assured they won't outgrow the scooter within a season.
Additional Notes
Recommended for ages 5+
Maximum rider weight supported is 132 pounds
Available in black (pictured), blue, pink, or iridescent colors
An even more stable three wheel model is also available that's appropriate for kids as young as 3
Don't forget a helmet, knee pads, and elbow pads to help prevent injuries
Let your child unleash their inner Spider-Punk with this Spiderman mohawk helmet!
Handlebar adjusts between 20" – 29" high, not including 5" deck height from ground
3 AA batteries required for lights in handle stem and deck (wheels are motion powered)
Not designed for tricks and grinding – may cause damage to your scooter
For best results, ride on smooth surfaces such as concrete or asphalt
#1 best seller in Kick Scooters on Amazon
Rated 4.5 stars with over 12,000 reviews – buy with confidence!
If the kids love skateboarding, check out the Swurfer tree swing too
Ready for the next step up? Try out these hover shoes; they're like roller skates and a scooter combined!
This electric hoverboard is a teen and adult friendly option for zipping around town