Swurfer Swing – The Backyard Skateboard and Surfing Swing!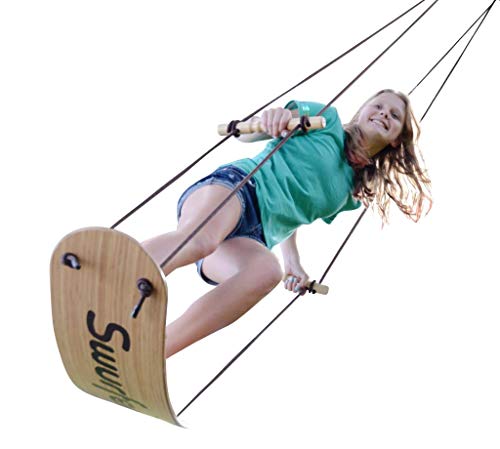 No, we can't go all the way to the beach today. Look, I'm happy you kids decided that surfing was fun, but it's not an everyday thing. Why don't you go try out the Swurfer swing on the tree instead? It's the closest you can get to surfing in the backyard! You want to know how you swing a Swurfer?
You can swing a Swurfer in two different ways. The first is like a normal swing, by sitting on it and pumping your legs to go back and forth. The second option is to stand, alternating pushing on the board side to side to create a swaying motion. Use your hips to add back and forth if desired.
The Swurfer swing upgrades your boring old backyard tree swing to something new and unique!
The Swurfer swing is here to put that old tire tree swing out to the curb. The seat is a skateboard shaped board made of durable and eco-friendly bamboo. It's clear coated for weather resistance and has reinforced grommets to prevent rope fray. The board measures 33" long and 10" wide, so it's perfect for kids and adults alike.
Each side has two holes for the included 60 ft ropes to pass through. This soft, woven rope is UV and mildew resistant, and won't fray. This means no rope splinters, and I know how much those hurt! Each side includes an easy grip ergonomic handle with adjustable height. Depending on the size of the rider and their preference, it will be comfortable for everyone.
Sit and use it as a traditional swing, or take to the skies soaring. The Swurfer swing will let you rock up to 15 feet in the air! It's perfect for summer fun and a great alternative to more traditional tree swings.  Additionally, it's the perfect way to get a quick workout in. Using the Swurfer helps build your glutes, thighs, and core, while also improving balance. That's my favorite way to work out – when I don't even know I'm doing it!
Additional Notes
Maximum weight capacity is 200 pounds
The bamboo Swurfer board is a limited edition design while the standard is made from hardrock maple
Recommended for ages 6+ but adult supervision is always recommended for younger children
Hang from a sturdy tree branch, jungle gym, or patio beam up to 30 ft high
Ropes are rated for 6,000 pounds
Includes universal carabiner coupling to fit nearly all sizes of sturdy beam or branch
If you'd like some additional traction, grab a set of these adhesive patches. They're available in black, green, or pink for a touch of personalization!
Perfect 5 star rating with over 30 reviews so far!
Looking for more things to hang from your trees? Check out this hammock chair tree tent. I can relax in it and read a book while the kids swing!