Sobro Smart Coffee Table with Refrigerator and Speakers!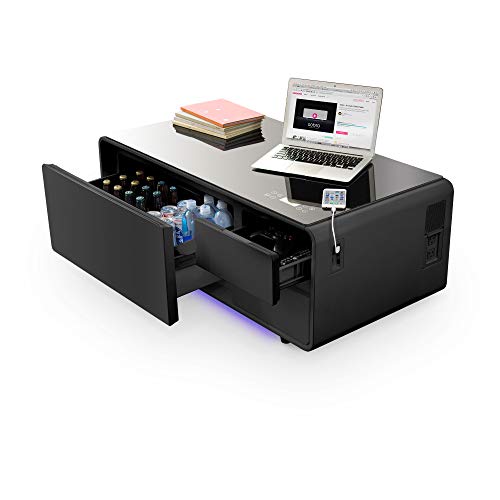 What do you mean it doesn't look ready for a party in here? I have everything we need right here in my Sobro smart coffee table. Just wait until you see all the things it can do!
The Sobro smart coffee table works as your all in one entertainment center. It features built-in speakers and LED lights, plus a charging station for your devices. A fridge, storage, and smart controls make it an innovative piece of furniture. All it requires is a power plug and it's ready to go.
Everything your living room needs is found in the Sobro smart coffee table!
The Sobro smart coffee table is a unique and innovative piece of living room furniture. This table is an entertainment center, workstation, and casual coffee table all rolled into one. Simply plug it in, and your central hub for fun is ready to go.
When it comes to party time, you'll find two integrated Bluetooth speakers in the table. Stream from your favorite media device, and listen to quality sound with enhanced bass. Best of all, everything can be controlled from the Sobro table itself; no app download is required.
LED lighting under the coffee table may be adjusted to suit the mood. From fun party lighting, to mood lighting, to low light for watching movies, this table can do it all. Plus, it means no stubbed toes in the middle of the night on your midnight snack runs!
There's no need to make a kitchen run to enjoy some drinks. The Sobro table has a built-in refrigerator that holds up to 32 cans or 40 bottles (or 55 lbs maximum)! It adjusts from 37 to 54 degrees Fahrenheit, so pick the optimal temperature for your beer, wine, soda pop, or water.
Next to the fridge, you'll find some additional storage space too. Two additional drawers provide a place to stow game controllers, remotes, cords, and any other essentials. You won't need coasters, though, as the top is made from tempered glass already. It's easy to clean and makes the touch controls simple to use!
If all that wasn't enough, this smart coffee table also works as a charging station. Two USB ports and four 120V AC outlets allow you to plug in all your essentials. Use it as a place to plug in your laptop for work and charge your phone or tablet at the same time. You can even stream an audio book to listen to!
Is there an app for the Sobro coffee table?
No, there is not an app for the Sobro coffee table. All controls are touch based and integrated into the top of the table.
While there is a Sobro app, it is designed exclusively for use with the side table, which doesn't have the same type of controls.
How loud is the Sobro coffee table?
The Sobro coffee table is not very loud. It operates between 30-40 decibels on average, making it no louder than ambient home noises. You'll be able to comfortably listen to a television or carry on a conversation without interference.
Of course, that changes when you stream sound via the speakers. With average Bluetooth speakers, you can expect to cap out around 80 decibels of volume. It's plenty to hear your books, music, and enjoy the background ambience. It will not, however, drown out the din of 50 people at a party.
A large amount of adjustment is available on the Sobro smart table, so you can move the needle up or down to adjust the volume for your specific needs. There's also a mute button if you need to turn it off with one click, so you don't miss that important call!
Additional Notes
Measures 43.1 x 22.8 x 22.8 inches and weighs 104 pounds
Rated 4.4 stars – it's a smart home essential!
Power cord is 110V (US), measures about 10 feet, and comes with a cord sleeve and protective tape to stick to floor
You may also like this foosball coffee table. It's a functional living room table and game table all in one!
No taking the coffee table outside. However, these Tiki Tunes offer light and Bluetooth music and are perfect for the patio!
Need more sound? Check out this Bose home speaker system to really turn it up. It's even compatible with Alexa
If you love integrating furniture and technology, then this immersive audiophile pod will be right up your alley! Feel the beat of your music or curl up and listen to your favorite audio book.
We also love this Pixel Bash Pac-Man arcade cabinet, which has a built-in mini fridge too. Anything with a fridge is always convenient when it comes to entertaining!
Hide those pesky cords with the help of this Middle Earth area rug. It keeps things looking nice, and you'll also be able to give directions to any wayward Hobbits!