Middle Earth Area Rug – Super Soft Lord of the Rings Map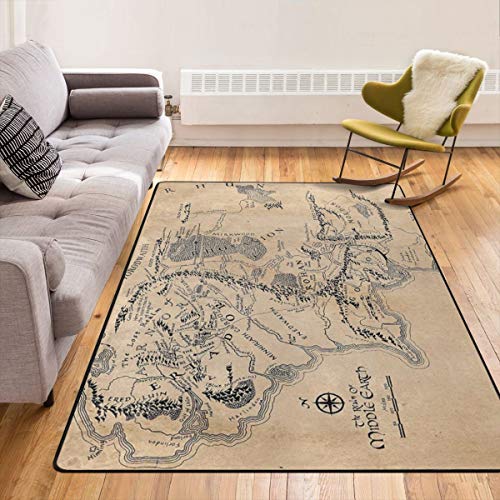 What are yinz kids arguing about in here? You can't agree on how to get to Mordor? Have you been watching my Lord of the Rings trilogy again? Well, in that case, I'm glad I grabbed this map of Middle Earth area rug for the living room. You can play in here, and get the one Ring back where it belongs!
Area rugs help to accent a room with open floor space. They are most commonly used in living rooms, dining rooms, and play areas. Area rugs come in many sizes, colors, and patterns to suit your tastes. You can place them on hard or carpeted floors. When it comes to choosing size, estimate approximately 12-18" of border space around the rug in the room.
Evade Sauron and get to Mordor with the help of this Lord of the Rings map of Middle Earth area rug!
Whether you're on a ring related quest, or just looking for new home décor, you'll love this map of Middle Earth area rug! The surface of the rug is made from a soft flannel in a tan color, with black printing. The rug itself is memory foam, for cushioned comfort. Non-skid plastic spots dot the bottom of the rug and make it stay perfectly in place. It's great on hard floors or on top of existing carpet, and even helps to dampen noise – perfect for apartment living!
The non-woven nature of this rug also makes it easy to keep clean. You can vacuum and spot clean easily, and it doesn't shed fibers like a traditional woven rug. This Lord of the Rings area rug also offers clean, bound edges for a nice, finished look. This keeps your map of Middle Earth looking great, no matter how much the kids play on it!
This map of Middle Earth area rug will look great in your kitchen, office, dining room, living room, playroom, and more! This Lord of the Ring rug comes in a variety of sizes with the smallest base size being 2′ x 3′ and the largest measuring 5′ x 8′. You could use a smaller design for yoga or as a hallway runner. Any fan of the Lord of the Rings would love this beautiful map of Middle Earth area rug in their home!
Additional Notes
Area rug available in multiple sizes: 2′ x 3′, 3′ x 5′, 4′ x 6′, and 5′ x 8′
Note that the price listed reflects the smallest size and larger rugs will have an increased cost
Weighs just over 4 pounds
Modern style rug with vintage style printing
Requires no carpet pad with this rug
If you're looking to invite (or warn) guests entering your home, check out a Lord of the Rings You Shall Not Pass doormat

getDigital Doormat You shall not pass - Carpet Entrance Rug Front Door Welcome Mat - Made from coco coir fibers - Perfect for LotR lovers - Orange-Brown, 23.7 x 15.7 inch

Who knows, maybe this Middle Earth map leads to your bathroom where a Gandalf rubber duck will guide you to the tub.

TUBBZ Lord of The Rings Gandalf The White Duck Figurine – Official Lord of The Rings Merchandise – Unique Limited Edition Collectors Vinyl Gift

While you're there, take a shower in the Shire with this Hobbit shower curtain!

Fuortia Hobbit Shower Curtain Fantasy Rural Green Hobbit Living Cabin Fabric Bathroom Curtains Sets Lord of The Rings Magic Shower Curtain with Hooks Bathroom Bedroom Decoration for Kids 70x70Inches

Enjoy some drinks at home with this wooden Dungeon Master mug!

Swords don't kill DM's do Beer Mug. D20 Wooden Beer Mug. Dungeon and Dragons Mug. Dungeon Master Personalized Mug. D&D Gift. DnD Beer Stein. Gift for Men. Gamer Gift. Beer Tankard. Gift for Him K250