RelaxoPet – Top Anti-Stress & Subliminal Dog Relaxation Trainer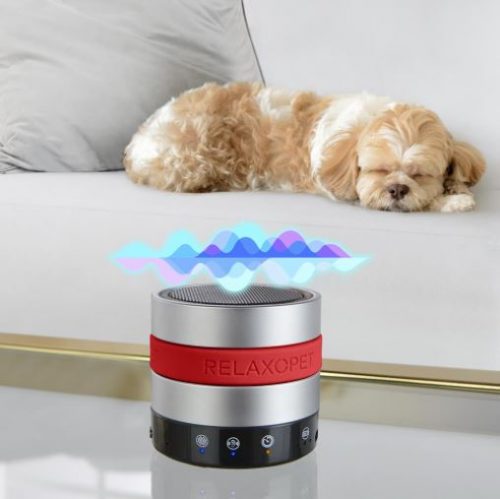 It's just a thunderstorm, Sparky. I'm sorry they're so scary to you. Let me turn on your RelaxoPet dog relaxation trainer and see if it helps you feel less stressed. I promise a little thunder is nothing to get worked up over!
The RelaxoPet stressed dog's relaxation trainer is designed to help with pet anxiety. Using ultrasonic sound, it promotes a calming effect in situations that would make your dog nervous. Whether it's loud noise like fireworks or a storm, or even separation anxiety, this trainer can help.
Keep your pup relaxed and stress-free with the RelaxoPet dog's relaxation trainer!
If your dog has a phobia of noises or being left alone, the RelaxoPet stressed dog's relaxation trainer is for you. This device uses ultrasonic sound waves that calm and soothe your dog, reducing their anxiety. The best part is that it isn't audible to human ears, so you won't disturb other household members.
The device is made from an aluminum resonance chamber and uses Hi Fi stereo speakers to produce sound. It runs on rechargeable battery power, so it's portable into any room that you normally keep your dog in. A single charge will last for about 12 hours, which is plenty of time to get through the stress.
Simply turn the relaxation trainer on, and in as little as an hour, it will noticeably decrease the stress level in your dog. Turn it on before you go to work if you have a dog suffering from separation anxiety. If your dog hates stimuli like fireworks or a storm, turn it on to help make the experience better.
RelaxoPet also works great in the car if your pooch stresses from car rides. I know what it's like to have a dog that doesn't want to go to the vet. With a 15' radius, this speaker will calm your dog whether it's a quick checkup or a cross country road trip!
While the six different audio waves it broadcasts can't be heard by humans, RelaxoPet does have the option to change it up. If you do want to hear sounds and music, simply hit the switch to change the frequencies to ones that you are able to hear.
Additional Notes
Charges via USB cable
Measures 6 3/4″ H x 3 1/2″ W x 4″ D and weighs just over 1 pound
A stressed cat's relaxation trainer is also available, for your feline companions
If you're leaving your pet alone when in an RV, make sure to use the Waggle pet monitor to observe temperature and safety
Keep your pet safe anytime you're on the road with the PetSafe car booster seat
Worried about your nervous dog running off? The Whistle GO attaches to their collar so you can track their location in an emergency
Clean up any pet accidents in the home easily with the Ruggables washable area rug!
Keep your dog entertained while you're away when you give him an iFetch automatic ball launcher
Check in on your pets during the day with a Furbo dog camera. You could even ask it to give a treat to your very good boy!
Even if your pet isn't stressed, I'm sure they'd enjoy relaxing to some Pet Tunes, with music picked just for your pets!