Nap Pod Chair – Boost Productivity with 20 Minute Power Naps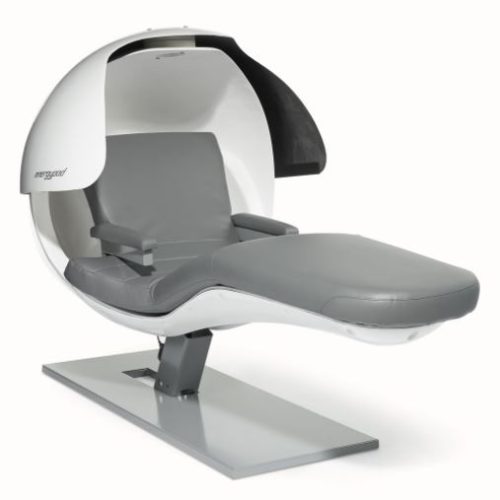 Okay, I'll bite. Why do you have what looks like a dentist's chair in your living room? I really hope you're not trying to moonlight as one. It's actually your productivity boosting nap pod chair? How does it work?
The nap pod chair works to provide a relaxing place to take short power naps. Whether you use the nap pod chair for office or home use, it provides an energizing recharge during your day. With ergonomic design and white noise, you'll get the most out of your time.
Break time will be your favorite time of the day with the nap pod chair for office or home use!
The nap pod chair is your ultimate power napping spot, for your home, office, or home office! This chair is designed to provide a space to get the best effects from a 20 minute power nap.
In fact, a 10-20 minute power nap is all it takes during the day to help you feel rejuvenated and to improve concentration. I know I feel that 3pm slump every day, but the nap pod chair can help!
This contoured, cushioned chair is ergonomic in design. It provides a comfortable napping position including a bend at the knees, which improves circulation.
On the upper portion of the chair, a spherical dome provides privacy, while a visor may be pulled down to really tune out the world. To further help with that, 200W Bose speakers play ambient rhythms to drown out the hustle and bustle of the world.
If that's not relaxing enough, use the headphone jack to listen to your favorites instead.
Built into the armrest, you'll find the timer controls.  While the nap pod chair defaults to that perfect 20-minute power nap, you can adjust it to suit any time you'd like. I do love an hour-long nap when I have the time.
When naptime is over, the pod chair will wake you with gentle vibration and an increasingly brightening light. While no one wants to get up, this will help to reduce grogginess and leave you feeling rested and alert.
Additional Notes
Measures 60″ L x 57 1/4″ W x 48″ H and weighs 310 pounds
No room for a chair? Try a Kanuda pillow, which offers low back chiropractic support, perfect for napping
Is the music the best part? Then try the immersive audiophile chair, which lets you hear and feel your favorite tunes
For that cozy cocoon feeling, I enjoy the Metapod sleeping bag. This Pokémon knows how to settle in for a good slumber!
To use your existing bed, use a pop up bed tent. It fits over your existing mattress to block sound and light, for a more restful sleep
Need to pack a nap spot on the go? The Tatami mattress is a Japanese futon bed that can be rolled up and brought along anywhere
Alternatively, just slide this ostrich pillow over your head, and block out the world around you. Put your head down on your desk, and nap away!
If you're a bit too wired for a nap, give your body a good spin with a wobbly spun chair!