DIY Fortune Cookie Making Kit – The Wisest Dessert Cookie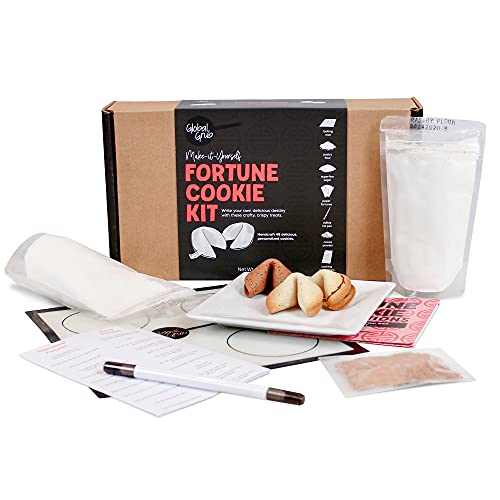 No, I'm putting my foot down. We're not getting Chinese takeout again. That's like the 5th time this week! Why do you want it so much? You just want the fortune cookies? Well, let's make our own instead with a fortune cookie making kit.
This DIY home fortune cookie making kit is a fun activity for kids and adults alike. Make some delicious treats, and write your own fortunes or messages personalized for your loved ones. This fortune cookie maker kit has everything you need.
Spread good fortune around with a fortune cookie making kit for DIY fun!
This super fun fortune cookie making kit is my idea of a rainy day activity. It has everything you need to make up to 48 fortune cookies. How cool is that?
The DIY fortune cookie making kit contains:
Shelf stable ingredients: pastry flour, cocoa powder, and superfine sugar
A reusable silicone baking mat
60 pre-written fortunes
Blank fortunes to write your own
Edible ink pen
You'll need to provide your own eggs, vanilla or almond extract, and salt. It's designed to make 4 batches of one dozen cookies, so experiment with different flavors for each batch!
Inside the box, you'll find a complete set of step-by-step instructions. They're also available online, if you prefer. You can expect about 10 minutes of hands-on prep time and 20 minutes of baking time per dozen-cookie batch.
It's recommended that you start with making two cookies at a time until you get the hang of it. You'll need to fold them fast before they cool and harden, so managing a lot at once is difficult until you're in the groove. Speaking of which, having a thin edge spatula or dough scraper nearby is very helpful!
Rated as a medium cooking skill level, this fortune cookie making kit is aimed towards adults and older kids. It's the perfect choice for date night, Valentine's Day, or for some family bonding time. Younger children can help as well, with some adult assistance!
Additional Notes
Comes in a wrapping ready box for gifting!
Impressive 4.8 star rating – foodie approved!
To complete your meal, check out their sushi making kit or mochi ice cream kit to enjoy more worldly flavors!
If you're a fan of exploring new foods and flavors, then Foodie Dice may be right up your alley. Create new dinner ideas with the roll of the dice!
Looking for more adult DIY kits? How about this gin infusion kit, which creates color-changing purple gin to enjoy
Create some artisan sausages and pepperoni with this sausage making kit
Don't forget the charcuterie board to serve up your masterpieces!
Play with your drinks, too, with this molecular gastronomy cocktail kit
If you enjoy that, learn more about molecular gastronomy at home with our beginner's guide!
Did you love the baking mat from this kit so much that you want bigger ones for all your baking? Then check out this silicone baking mat for all your cookie-making dreams!