Squid Game Cookie Cutter Set – DIY Dalgona Candy Challenge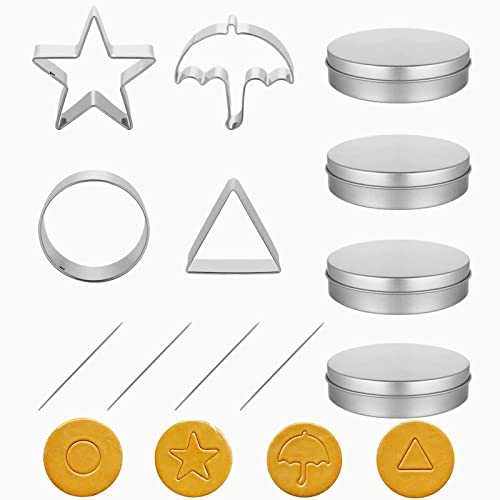 Are you making gingerbread in here? Wait a minute; I don't think that looks like gingerbread. You're making Dalgona candy with your Squid Game cookie cutter set. I'm getting out before the Front Man shows up!
Bring the challenge from the hit Netflix series home with a Squid Game cookie cutter set. This set includes everything you need to shape, contain, and break your very own Dalgona candy. It's a test of patience and dexterity that's fun for everyone.
Face the Dalgona honeycomb candy challenge with a Squid Game cookie cutter set!
If you've ever watched the honeycomb challenge and thought "I can do that", then face it yourself with this Squid Game cookie cutter set! You'll receive everything you need (besides the food) to create your own game at home.
The 12-piece set of the Squid Game kit contains:
4 cookie cutters: umbrella, triangle, circle, and star
4 round tins with lids
4 box needles
It's designed to replicate the game of finesse on the popular show, Squid Game. Contestants have 10 minutes to carefully remove their shape from the Korean Dalgona honeycomb candy, using the needle.
Since you're not quite under the same pressure as the characters of the show, though, this home version is a lot more fun! Billions of won are not up for grabs either!
All components are made from food-grade stainless steel, which is both rust proof and dishwasher safe. That means easy cleanup so you can try again and again. Thankfully, your survival isn't at stake!
The only thing not included in the kit is the materials to make the Dalgona candy itself. However, the recipe is simple, as all you really need is sugar and baking soda. I already have that in my cupboards!
This Squid Game kit is perfect for creating a fun time at your next party or family get together. Plus, if you're not busy making candy for it, you can still use the cookie cutters to make normal cookies. The tins are great for storing tea, candy, spices, or other small bulk items as well.
Additional Notes
Newer product, with a perfect 5 star rating so far!
For ease of transferring cooled candy, it's best to mold it on a silicone baking mat
Make delicious cookies with fun messages with a DIY fortune cookie making kit
If you don't want to cook, the molds also work great with Play-Doh!  Re-enact your own version with these grown up Play-Doh scents!
For another fun and festive cookie cutter, check out this gingerDEAD man cookie cutter. It's perfect for Halloween and Day of the Dead cookie fun!