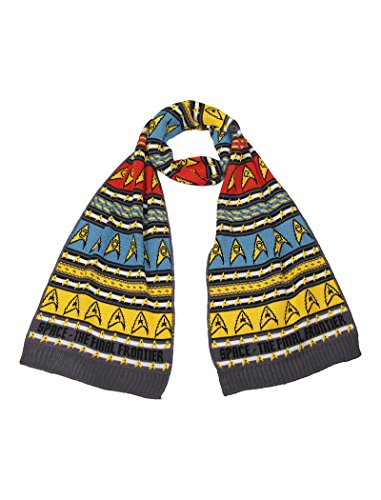 I really wish I were somewhere warmer. Wait, I have an idea. Beam me up, Scotty! Well, that didn't work. Guess I'll just put on my Original Series Star Trek insignia scarf and wish I was somewhere warmer.
Whether you're an engineer, command, or science crew member, step aboard the ship. This fashionable scarf will keep you warm, while helping you look like one of the crew. The fun primary colored design makes it an easy way to incorporate your favorite series into your everyday attire.
Boldly go where no man has gone before with the Original Series Star Trek insignia scarf!
You're sure to live long and prosper when you wrap this cozy Star Trek insignia scarf around your neck. It's made from a soft, woven acrylic that's comfortable and helps ward off the chill.
The design features the insignias of each of the major Star Trek crew divisions: engineering, command, and science. The yellow, blue, and red color block sections are finished with neutral gray and white borders. Along the bottom edges, you'll find the message "space – the final frontier" woven in black lettering.
If that's not your favorite, a "live long and prosper" version is available for Spock fans. Alternatively, check out this Christmas-themed "to boldly go" version.
The Star Trek scarf is about 12" wide and 75" long, making it easy to wrap however you enjoy. This unisex design is perfect for fans of the series, collectors, and cosplayers alike. Everyone likes to be warm in the cool months, so why not show off your geek side while staying snug?
Additional Notes