Addi Express Knitting Machine – Professional Kingsize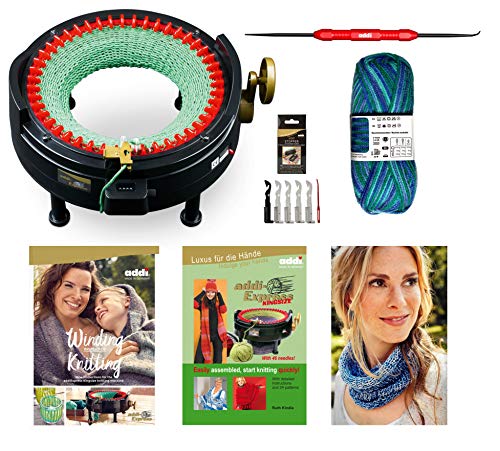 I really wanted to knit you a nice new sweater for the holidays, but I'm just all thumbs when it comes to these knitting needles. So, I gave up and got myself an Addi Express professional knitting machine to do this complicated yarn work for me. Just you wait, I'll be a sweater making machine in no time, with the help of this gadget!
A knitting machine can make, or assist you to make, many types of knitted items. The machine can produce smaller items such as socks, scarves, gloves, mittens, hats, and table cozies all on its own. Larger knitted items like sweaters, afghans, throws, and other items can be produced in segments and then quickly assembled into the completed piece.
Become a knitting master with the help of your Addi Express professional Kingsize knitting machine!
The Addi Express knitting machine is an innovative tool to help you knit like a professional! This king sized edition has 46 knitting needles, so you can put together large pieces quickly and easily. This new and improved version of the original machine now offers a mechanical row counter to make your projects even easier!
In the box, you'll find the knitting machine itself, which is designed in Germany. It's made of high impact plastic, which is incredibly durable yet lightweight. There are 4 feet that attach to the machine to serve as the base, keeping it stable on whatever flat surface you're working on. If you have any concern about all the needles, don't fear, as it comes with five replacements just in case. Addi Express also includes a threading tool, 2 stoppers, 2 clampers, and a skein of yarn to help you start.
This knitting starter kit has everything to set you on your way to your first loop scarf project! Once you've successfully completed your first project, you can pick your favorite from one of the two included pattern books. There, you'll find 56 more patterns to get you started on your knitting adventures. The Addi Express machine is capable of all sorts of complex knitting and crochet designs, so let your imagination run wild!
The knitting machine requires no power to operate, as the thread is woven via a hand crank once you've threaded everything into place. This makes it a perfect project for a rainy day! The Addi Express Kingsize also makes a great gift for Mother's Day, Christmas, or even a birthday. Any knitter from beginning to pro would love an extra hand from a knitting machine!
Additional Notes
Weighs 6.6 pounds
Suitable for yarn count 4-8
#18 best seller in Knitting Kits on Amazon
4.5 stars with nearly 200 ratings – people love it!