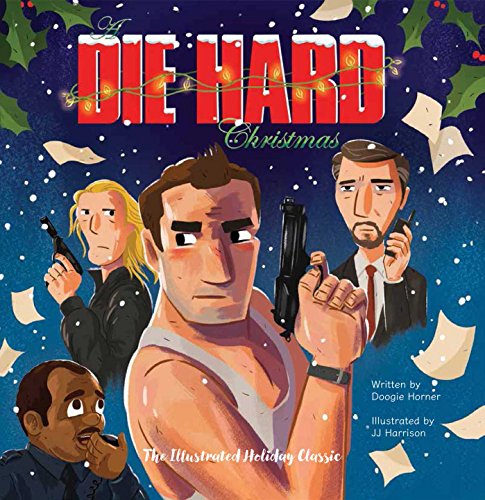 What do you mean you don't think Die Hard is a Christmas movie? You know what I think? I don't think we can be friends anymore. Here, go read my copy of A Die Hard Christmas book, and then maybe we can talk.
A Die Hard Christmas turns the classic movie into a hardcover picture book. The story follows characters from the movie, illustrated into a new kind of storytelling experience. Whether you believe Die Hard is a Christmas movie or not, it's still an action-packed adventure.
If you enjoy audio books, try Amazon's Audible Plus for free!
Come home for the holidays after defeating Hans Gruber in A Die Hard Christmas book!
All John McClane wanted to do was to come home for the holidays. As you'll learn in A Die Hard Christmas, it wasn't going to be that easy.
This 32-page hardcover illustrated book is geared towards adult readers to retell a couple classic Christmas tales in one. While it features your favorite characters like John, Hans Gruber, and Sgt. Powell, it's told in the tune of Twas the Night Before Christmas.
Follow the story as John works to save the life of his wife in a deadly hostage situation. Who knew that the office holiday party was going to be so action-packed!
While the illustrations are whimsical, and the rhymes are joyous, this book does contain strong language and violence which makes it appropriate for more mature audiences.
Settle the debate once and for all if Die Hard is a holiday movie, and start a new tradition in the process. Your teens might even think you're "cool" again.
After all, what's Christmas without a little holiday magic, storytelling, and Hans Gruber falling from Nakatomi Plaza?
Additional Notes
Great stocking stuffer for any Die Hard fan!
Top 5 seller in Limericks & Humorous Verse books on Amazon
Astounding 4.9 star rating with over 2,000 reviews!
If you want to plan a successful party, then pick up an official copy of The Office Party Planning Guide! It works for garden parties and the Dundees too!

The Office: The Official Party Planning Guide to Planning Parties: Authentic Parties, Recipes, and Pranks from The Dundies to Kevin's Famous Chili

For another hilarious adult-oriented book, we recommend the Oatmeal's How to Tell if Your Cat is Plotting to Kill You 

How to Tell If Your Cat Is Plotting to Kill You (Volume 2) (The Oatmeal)

Did you know they make adult coloring books too? Check out the drinking animals coloring book for the over 21 crowd!

Drinking Animals Coloring Book: A Fun Coloring Gift Book for Party Lovers & Adults Relaxation with Stress Relieving Animal Designs, Quick and Easy Cocktail Recipes

Or, check out a list of our favorite adult coloring pages. You can partake in the adult pleasures of life while coloring your way to calm!