Kids Bed Tent: Transform Your Child's Sleeping Experience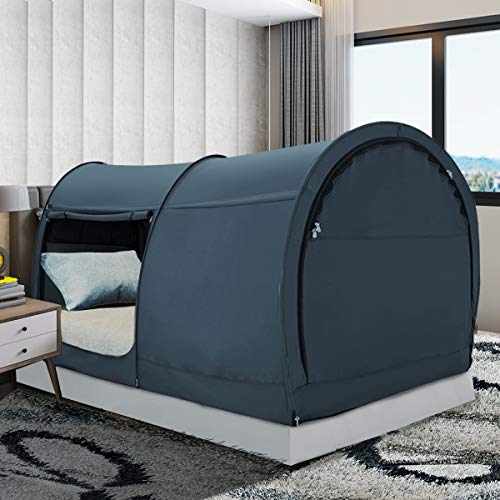 If you have a child who loves camping, adventure, or just needs a little extra privacy while sleeping, a kids bed tent could be the perfect solution!
A bed tent can help transform your child's bedroom into a cozy, private, and fun-filled space. It's also great for teens or adults who need a quiet or darkened place to sleep or focus.
In this article, we will review a popular kids bed tent and answer some frequently asked questions about bed tents in general to help you choose one that's right for you!
Product Overview: Let Your Child's Imagination Run Wild
The Leedor (Alvantor) bed canopy is an easy to set up indoor bed tent that fits a standard twin-sized mattress. However, it is also available in options for bunk beds, as well as full and queen sized beds for use by older kids, teens, and adults!
This tent was designed with ease in mind! Setup and takedown are both a breeze, with shock corded fiberglass poles that make things simple and secure.
The tent's walls and roof are made of durable polyester material, and the tent features roll up window openings for ventilation and visibility. The outer shell is machine washable for easy maintenance.
This bed tent can be used for imaginative play during the day and a cozy sleeping space at night!
Setting Up the Bed Tent: Quick and Easy
Setting up the Leedor Bed Tent is quick and easy, with simple instructions that are easy to follow. Here are the steps:
Unpack the tent, using caution as you release the velcro restraint, as it pops open quickly 
Spread the tent out on the bed or floor
Insert the shock-corded fiberglass poles into the zippered sleeves of the tent
Place the tent on top of the mattress
Add an inflatable mattress, pillows, or blankets inside if desired
The tent breaks down in minutes for flat storage when you're not planning to use it.
Can Bed Tents Fit on Bunk Beds?
Yes, bed tents can fit on bunk beds. Make sure to measure the height of both your beds and tent to make sure that it will fit. Many brands offer a specialized tent that's designed specifically to fit a bunk bed setup.
As seen in the Leedor bed canopy, the bunk bed tent is 8" shorter in height than the standard twin, allowing it to better fit the stacked bed system.
Safety Considerations: Keep Your Child Safe and Sound
Bed tents are generally considered safe for kids to use. However, there are some safety considerations you should keep in mind:
Securely fasten the tent to the bed so it cannot collapse or fall
Do not use matches, candles, or other flammable items inside the tent
Keep the tent well ventilated to prevent carbon monoxide buildup
Always supervise younger children while they are inside the tent
Bed tents in general are not designed to hold the weight of a person on the sides, and they won't hold up to a lot of abuse.
Therefore, I typically feel that they're for older kids and onwards, probably around 8 years old and up. For a younger child that will be rougher on it, you're better off with a play tent or fort in the interim.
Benefits of Using a Bed Tent: Create a Cozy Sleeping Space
There are many benefits to using a bed tent, including:
Creating a cozy and private sleeping space
Providing a fun and imaginative play space during the day
Offering a sense of security and comfort for kids who may be anxious or have trouble sleeping
Helping to block out light and sound for a better night's sleep
Alternatives to Bed Tents
While bed tents are a great way to add some fun and privacy to a child's sleeping space, there are a few alternatives to consider as well.
1. Canopies
A canopy bed is a bed with four vertical columns that are typically draped with fabric or netting to create a romantic or whimsical look.
There are also canopies that may be suspended from the ceiling over the bed if you don't have columns on your bed frame.
Canopy beds add some drama and dazzle to a bedroom, while they still provide some added privacy.
In addition, canopies are often more affordable than a bed tent. They don't provide the same light blocking, but still offer a private space.
2. Loft Bed
A loft bed is a bed that is elevated off the ground, creating additional space underneath for a desk, play area, or storage. 
Loft beds are a good choice for small bedrooms where space is at a premium, combining your sleeping and play areas into one!
3. Teepee
A teepee is a tent-like structure, typically made out of fabric and supported by poles. Teepees can be a fun addition to a child's bedroom, providing a cozy spot for reading or playing.
4. Fort
Building a fort is a classic childhood activity, and it can also be a fun way to create a cozy sleeping space. This is another option that tends to be more affordable than a bed tent if you're watching your budget.
Using blankets, pillows, and other materials, kids can create their own unique fort right in their bedroom. Check out my review of Crazy Forts for a kit to get you started!
If building isn't an option, something like the AirFort Inflatable Fort might be a better option, as it self-inflates in about 30 seconds.
5. Play Tents
Play tents come in a variety of sizes and designs. You can use them for imaginative play during the day, and then as a fun sleeping space at night!
They are often more portable and easier to set up and take down than bed tents.
Plus, they're available in a lot more themes, like this awesome Batmobile Play Tent!
Frequently Asked Questions
Are bed tents safe for kids?
Yes, bed tents are generally considered safe for kids as long as they are installed properly and used in accordance with the manufacturer's instructions.

Make sure that your tent is securely attached to the bed, that there is proper ventilation, and that you don't use anything flammable while inside.
What age range are bed tents suitable for?
Bed tents are suitable for children around age 8 or more, as well as teens and adults depending on the size of the tent. Use your best judgment based on your child's maturity level.

The tents are not designed to take a lot of abuse, so they're not a great choice for small children. However, older children will appreciate the sense of privacy and coziness that the tent provides.
Bed tents also work well in dorms for privacy, and offer a darkened space for daytime sleepers as well.
Can bed tents be used with bunk beds?
Bed tents can be used with bunk beds, but it will vary based on the specific tent and bunk bed configuration. Some bed tents are designed specifically for use with bunk beds, while others may not be suitable.

It's important to check the manufacturer's instructions and guidelines before using a bed tent with a bunk bed.
Do bed tents come with a mattress?
Generally, bed tents do not come with a mattress. You can place it over your existing mattress, or slide an air mattress inside the tent.
What is an indoor bed tent?
An indoor bed tent is a type of tent designed for use over a bed indoors. Some may also be freestanding, made for use on the floor.

The primary difference between an indoor and outdoor model is the material which the shell is made from. Indoor tents are not water resistant, so would not provide shelter in the rain like an outdoor tent would.
Final Thoughts
If you're looking for a fun and unique way to add some privacy and excitement to your child's sleeping space, a bed tent is definitely worth considering.
There are so many different styles and colors of bed tent available that you're sure to find one that fits your decor and your bed!
Bed tents have so many great benefits, like providing a safe and cozy feeling space, offering privacy, and even filtering light making it perfect for movie night and daytime sleepers.
Where to Buy
More Unique Beds and Tents for Kids