Star Wars Operation Game – Keep the Porgs Off Chewbacca!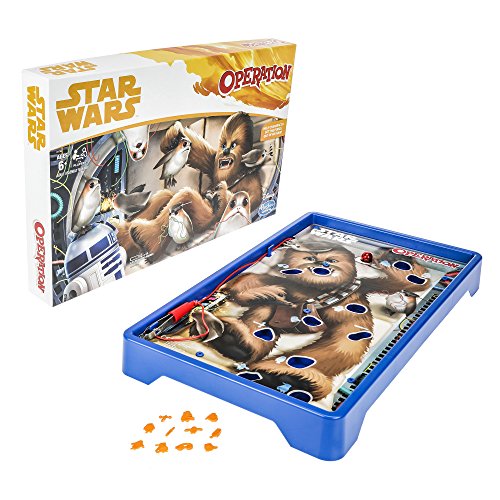 You have a stomach ache, Chewie? Well, it's a good thing I've been practicing with the Star Wars Operation game. I'll get you patched up in no time! Wait, why are you running away?
The Star Wars Operation game is a modern twist on the classic, featuring Chewbacca as your patient. Thankfully, instead of removing organs, in this version you're just pulling those pesky Porgs out of his hair. Help save the day, and everyone's favorite Wookie will thank you.
Take a classic to a galaxy far, far away with the Star Wars Operation game featuring Chewbacca!
The Star Wars Operation game is based on the classic Operation game you may have played as a kid. This modern version brings you into the world of Star Wars to help out your Wookie pal, Chewbacca!
Instead of removing internal organs from your patient, Chewie only needs help with some Porgs. They're super adorable, but they love getting caught in his fur when he's trying to relax!
There are 11 plastic pieces that you'll need to "remove". They include 8 different Porgs in various positions and some of their tools – such as a screwdriver and a pair of goggles. How did those even get in there?
Choose to play solo or go head-to-head with your friends. To play, you'll need to use the tweezers to carefully remove the pieces from the slots on the Operation game board. Just like the classic version, Star Wars Operation does buzz if you touch the sides.
You'll need a steady hand if you want to win. Remove all the pieces in solo mode or successfully remove more than your opponent if alternating turns.
If you hit the buzzer, the light will turn red and your turn is over, so you'll need to try again. Operation improves motor skills and hand eye coordination, so it's great for kids!
Of course, that doesn't mean that adults can't get in on the fun too! The Star Wars Operation game is great for family game night and parties as well.
Additional Notes
You can also help Baby Yoda stay out of trouble with this Star Wars Mandalorian Operation game!
Recommended for ages 6+
2 AA batteries required (not included)
For 1+ players
Board measures 1.61 x 15.75 x 9.88 inches and weighs about 1 pound
Officially licensed
Rated 4.6 stars with over 750 reviews – Wookie approved!
Bring Star Wars to your home arcade as well with this Star Wars pinball machine 

The Official Star Wars Pinball Machine

This is the pinball machine inspired by the original Star Wars trilogy and decorated with comic-book style graphics created by Randy Martinez, an official artist of Lucas Films. It has classic arcade pinball features such as solenoid-powered flippers and bumpers, three stand up targets, and five...

Help feed Baby Yoda some frogs with the Mandalorian Snack Time game 

Buffalo Games Star Wars The Mandalorian - Snack Time Game

For more game night fun, try out the I've Got a Bad Feeling About This Star Wars card game

Hasbro Gaming Star Wars: I've Got a Bad Feeling About This!

Pack your games into this perfectly themed Chewbacca messenger bag to go on the road

Se7en20 Star Wars Chewbacca(Chewy) BBQ Bag Officially Licensed

If it's cold, throw on your Chewbacca blanket with sleeves before you sit down to play

Disney Star Wars, "Being Chewie" Adult Soft Throw Blanket with Sleeves, 48" x 71", Multi Color

Love modern versions of classic games? Then check out Donkey Kong Yahtzee for another favorite

USAOPOLY Yahtzee: Donkey Kong Game

If you really love technology, the the Arcade 1Up Infinity electronic board game table will allow you to play over 45 classic games from this one device!

Arcade1Up 32" Screen Infinity Game Table

This is the table with a 32" touchscreen surface that enables individuals to play digital board games and enjoy a variety of interactive apps. Ideal for children, adults, or multi-generational families, it comes pre-loaded with over 45 Hasbro games including Monopoly, Scrabble, and Trivial...

Or, check out how many Clue board games are based on TV & movies and find your favorite!