RC Mars Rover – Explore and Record the World with NASA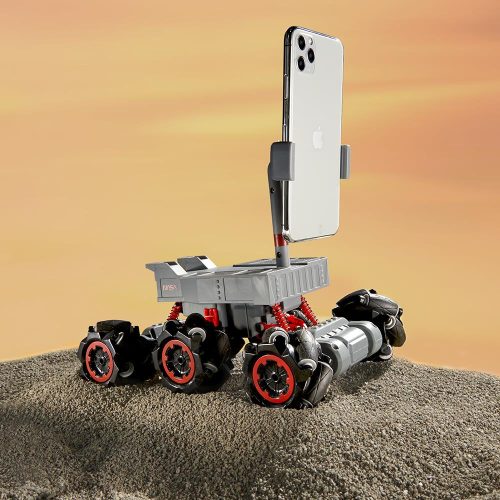 I've always wanted my own robot for exploring beyond our planet. So, I decided to buy my very own RC Mars Rover to explore the uncharted territories of my backyard at least. Discovery, here I come!
Now you can buy your very own Mars Rover, in RC form. This handy robot is a functioning, controllable model built to look just like the Perseverance from 2020. Explore the unknown and record your adventures via a camera phone attachment on the front of the unit.
Explore the farthest reaches of your universe with the RC Mars Rover!
Any scientist or explorer will be thrilled to get their hands on this incredible RC Mars Rover toy. It's designed to look just like NASA's actual Perseverance explorer. Thankfully, this one will make the trip to your doorstep in much less than 7 months!
Six all-terrain tires and shock-absorbing suspension allow for navigation through all sorts of terrain. Whether it's unexplored territory in your own backyard, or if somehow it eventually makes its own trip to Mars (looking at you, Virgin Galactic) you'll be ready.
Steer with the included controller from up to 98' feet away. Better to let the Rover explore that crater, after all. Controls go forward and backwards, left and right, and it can move sideways as well.
Capture your findings with the integrated smartphone holder. It utilizes the camera on the rear of your phone to capture footage from your mission. Study the life you find in detail upon your Rover's return!
This robot does not possess any robotic limbs to harvest samples, unlike the real Rover. Unfortunately, you won't be bringing any moon rocks home. I don't think it's a bad thing, as the last thing I need is a "space rock" collection in the house.
What phones is the RC Mars Rover compatible with?
The RC Mars Rover works with most Android and iPhone smartphones, using its adjustable clamp system. It will not work with tablets or larger sized devices. Your phone will need to have a rear-facing camera.
Note that the arm is slightly adjustable in terms of angle but is not designed to be used in a position other than upright. Thus, you won't be able to shoot landscape-style footage with it.
Additional Notes
Recommended for ages 5+
Requires 2 AA batteries (not included)
You may also enjoy this RC water bomb tank. It moves and shoots real water beads!

RC Tank Car, Koeni Remote Control Tank 12Km/h for All Terrains Can Launch Water Bomb, 2.4 Ghz RC Tank Car with 180° Rotating Shooting & 360° Rotating, High Speed Tank Off-Road 4WD, Boys Toys Age 6-8

Team up with a friend and go head-to-head with RC battling tanks featuring infrared turrets and sounds

The RC Battling Tanks

These are the remote controlled battling tanks that fire infrared "projectiles" at each other from 360u00BA rotating turrets. The tanks move on realistic treads and are fitted with a cannon that fires an infrared beam 12' away at a sensor on the enemy tank. When a tank is hit, LEDs...

For some out of this world sound, trying listening to this Bluetooth floating UFO speaker!

Levitating Floating Speaker, Magnetic UFO Bluetooth Speaker V4.0, LED Lamp Bluetooth Speaker with 5W Stereo Sound, Wireless Charge, 360 Degree Rotation, for Home/Office Decor,Unique Gifts(Grey)

Do some outdoor exploration of your own with the jungle gym climber. It even features a tent for a base of operations!

TP Toys Explorer 2 Climbing Set Jungle Gym with Platform and Tent, Blue