Football Decanter – Show Off Your Winning Whiskey Arm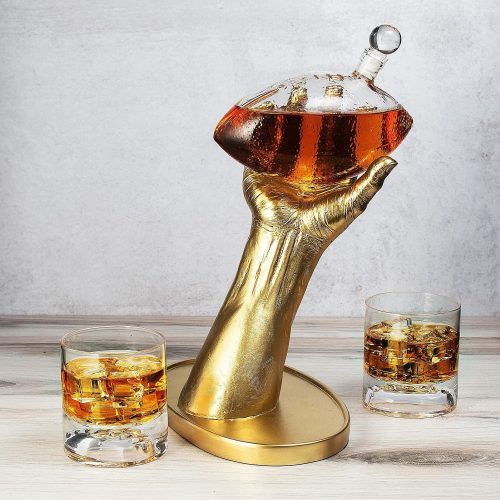 Hey, pass me that decanter, would you? I need a refill. What, do you think you're Joe Montana or something? It's a football decanter, not an actual ball to throw. I'm not going to be pleased if I'm covered in whiskey due to your shenanigans!
Sports fans rejoice, this classy football decanter combines your favorite game with your favorite drink. The glass football holds your choice of liquor until you're ready to sit down for the big game. Just don't try to pass the football to refill the drinks, or it might get messy.
It's like a tailgate in your living room when you pass drinks in a football decanter!
You don't have to be a Hall of Fame QB to enjoy a football decanter in your home. In fact, any sports fan will enjoy this classic way to store and display your favorite beverages.
The football itself is made from 100% lead free Borosilicate glass, which is the type used in beakers due to its resiliency. Attention to detail has not been spared, as you'll see the texture of the "pigskin" and even the laces formed into the glass. A round glass stopper puts on the finishing touch.
This decanter is perfectly clear, so it's ideal for showing off the golden hues of your favorite libation. While there are many choices, most often decanters are used with:
Whiskey
Bourbon
Vodka
Rum
However, any liquor should work. Even red wine can be stored in a decanter on a short-term basis. Just remember that the flavor will change the longer it's exposed to air.
To hold your game ball, a golden hand serves as the base. I like to imagine it's Terry Bradshaw getting ready to throw that ball to Lynn Swann – except the pass goes into my glass! Either way, it makes for a conversation starting display for your home, office, man cave, or bar.
When it comes to serving up your drinks, two whiskey glasses are also included. While they're seemingly normal and round, an inspection of the base shows a football molded into the glass.
No matter who you're rooting for this year, the football decanter is a great way for everyone to get together, party, and celebrate!
Additional Notes
Also makes a great Father's Day gift!
Star Wars fans may also enjoy this Stormtrooper decanter
If you're looking for a less-themed but still classic option, try this decanter globe instead
Use some UFO ice molds to make perfectly round craft ice for your drinks on the rocks!
Or add some distinct style to your drink with these whiskey bullet stones! These are a popular gift for boyfriends, husbands, and wedding groomsmen.
Use this insulated whiskey glass and keep your drink at the perfect temperature even in the heat!
Don't forget the beer drinkers either – a mini fridge with 120 can capacity is the perfect supplement to your new decanter!