Floating Duck Bluetooth Speaker with 7 LED Color Lights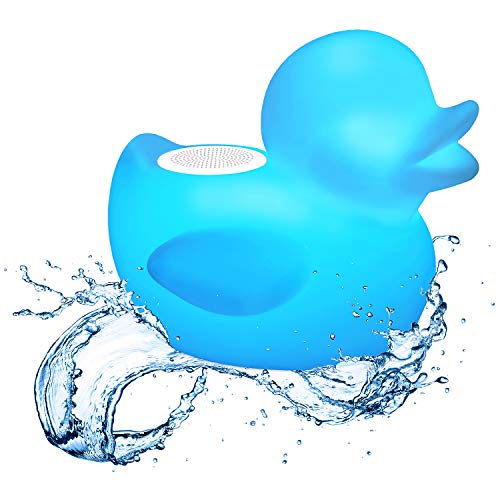 Oh, a waterlogged cell phone; well, that's unfortunate. How many times have I told you not to bring your phone out by the pool? I know you wanted to listen to music while you swam, but next time use the Bluetooth floating duck speaker in the pool. The glowing duck is both adorable and waterproof!
Just like a rubber ducky at bath time, this floating pool speaker bobs along in your swimming pool. Using a Bluetooth connection, it's also a waterproof speaker to blast out your favorite tunes. It's a must have for your next backyard or pool party.
Float along to beat in your pool with this waterproof Bluetooth floating duck speaker!
This floating duck Bluetooth speaker is the perfect addition to your backyard paradise. Whether it's soothing music for a relaxing soak, energizing music for your water workout, or party music for the pool, you're covered.
The best part is that the speaker is shaped like a rubber ducky. Come on, how fun is that? The rubber duck even glows! Use the remote to change the interior LED lights to one of 7 fun colors so the party goes all night. I'm going with purple duck, but you can choose:
Red
Light blue
Orange
Yellow
Dark Blue
Green
Purple
Don't think this is a tiny ducky from your childhood, either. This floating duck speaker is over 13" long, so it won't feel lost in your pool, no matter the size. It's easy to spot and makes a great conversation starter too. Kids and adults will both love it!
Using a wireless Bluetooth connection, this waterproof speaker streams your music from up to 33 feet away. This means your smartphone, computer, tablet, and any other streaming device can stay safely away from the pool. We know pools and electronics don't mix.
A rechargeable battery takes about 6 hours to charge, and then the duck operates wirelessly for about 6 hours. A charging base makes things easy. Just dry the duck off and set it on the charger, which is in turn plugged into the wall. The charging process itself is cordless!
Additional Notes
Speaker is 5 Watts
Measures 13.8 x 13.8 x 11.4 inches and weighs about 4.5 pounds
Rated 4.3 stars with nearly 50 reviews!
Safe for hot tub use too (though the jets will toss it around) – grab a SaluSpa jacuzzi for your backyard and enjoy
Want this duck but don't have the pool? Check out our guide to budget for an above ground pool so you can be ready!
Then, finish it off with these floating pool lights – they'll complement the speaker perfectly!
Surround your pool with LED cube seats for themed coordination on land too
This ducky is probably too big for your shower. Instead, this waterproof shower speaker should do the trick.
With floating lights and music, the last thing we need are drinks. These floating beach glasses have you covered, bobbing along to keep your tropical concoction within arms' reach in the pool or tub!
it.innovative technology Glowing Waterproof Rechargeable Bluetooth Duck Pool Floating Speaker, Multi (ITSBO-530)
1 new from $74.99
Free shipping
as of September 8, 2021 12:45 am
Features
Floating waterproof speaker with 5 watts of power.
Built-in Bluetooth wirelessly streams your favorite music up to 33 feet away.
Built-in rechargeable battery with convenient charging base
Rechargeable battery last 6 hours and fully recharges in 6 hours.
7 bright color changing LED options. Remote control included
Fountain Waterproof Bluetooth Speaker, Wireless Shower Floating Party Outdoor Pool Speakers with Lights Deep Bass for Hot Tub Water - White
1 new from $79.99
Free shipping
as of September 8, 2021 12:45 am
Features
UNIQUE FOUNTAIN FEATURE: True fountain speaker WHALE pioneered by COWIN. Three special nozzles correspond to three spray patterns. High, mid, and low gears corresponding to three fountain heights. Suitable for outdoor pools, family hot tub and entertainment. Great for children, teenagers, and adults of all ages, can be used in summer, winter, and other seasons.
CRYSTAL CLEAR SOUND QUALITY: WHALE equips with two stereo audio drivers and advanced digital signal processor, which can output crisp treble, delicate midrange, and enhanced bass at any volume. Higher quality crystal clear stereo sound, the distortion rate is not more than 0.5%, far superior to the competition.
LONG BATTERY PLAYTIME & IPX7 WATERPROOF: Built-in 4500mAh rechargeable battery supports up to 5 hours of playtime at 1/2 volume after a full charge, long enough for your pool activities. The IPX7 waterproof Bluetooth speaker will bring more fun to your pool entertainment. And you can enjoy music while taking shower or swimming in pool with this shower speaker.
BLUETOOTH 5.0 SIGNAL: The Bluetooth speaker can connect normally under difficult conditions and the signal is not disturbed. Bluetooth 5.0 provides over 100 feet wireless connection range and efficient connection to Bluetooth devices.
COLORFUL LED & DURABILITY: Modern appearance and trendy design with 7 color LED lighting with multiple switching modes. In addition, exquisite workmanship and sturdy structure make this led speaker exceptionally durable. Appearance and practicality coexist.
Bluetooth Speakers with Colorful Lights, Portable Speaker IPX7 Waterproof Floatable, Built-in Mic,Crystal Clear Stereo Sound Speakers Bluetooth Wireless 50ft Range for Home Shower Outdoors Pool Travel
1 new from $34.99
Free shipping
as of September 8, 2021 12:45 am
Features
【IPX7 Waterproof Floating &Rugged】① IPX7 highest rating wireless bluetooth speakers can immersion up to 3 feet for 30 minutes underwater. Good as Splashproof, Rainproof shower speaker, a waterproof tub speakers, beach speaker etc. ②This portable Bluetooth speaker adopts special design that can floate on water, it can be applied to all water environments. ③ Rugged and durable design Perfect for for indoor and outdoor, party, travel, sport, boating, camping and more.
【Astonishing Sound】 The bluetooth speakers portable wireless has excellent high-fidelity stereo sound with wide-ranging adjustable volume levels. Blufree Portable Wireless Bluetooth Speaker produces outstanding audio and blasts out rich, clear sound. It delivers excellent surround sound in both indoor and outdoor environments.
【Long Play Time with Color Changing Light】① Our Bluetooth speaker portable wireless has long battery playtime up to 8 hours after a full charge. This Bluetooth speaker waterproof is rechargeable and requires no additional batteries. ②The led bluetooth speaker can provide 7 different color changing themes and slow flashing, fast flashing light modes. Speakers bluetooth wireless lights up and makes your night much more colorful and happy.
【Hands Free Calling】①With built in microphone, you will not miss any important calls when taking shower, swimming in the pool(this is a pool floating speaker, it can floating on water); thus you no need to take your phone all the time. ②Adopt bluetooth 4.2 technology, this mini bluetooth speaker can easy and fast connect to your iPhone/iPad/Phones/Tablet/computer and all other Bluetooth devices. The wireless connectivity up to 15 meters, you can enjoy favorite music with ease in any where.
【What You Get】Blufree compact waterproof speaker bluetooth, USB charging cable and user guide. We guarantee our wireless speaker 30 days 100% money back or free exchange and 12 month warranty. Please feel free to contact us if you have any trouble. We will offer you a satisfactory solution within 24 hours.
ECOXGEAR EcoBoulder MAX Rugged Waterproof Floating Portable Bluetooth Wireless 120-Watt Smart Speaker with Party Lights
as of September 8, 2021 12:45 am
Features
100% Waterproof and dustproof - meets IP67 international standards, no worries with rain, dirt or snow; Drop it in your pool, lake or ocean - no worries, it floats; Audio sources include Bluetooth, AM, FM or wired AUX-IN connection; Bluetooth 5.0 streaming range up to 100 feet away; Booming sound and Front Facing Party Lights
120 watts at max output drives an 8-inch full range main driver speaker, a 3-inch tweeter and an oval passive subwoofer for a balanced sound with crisp highs, clear vocals, warm midrange, and deep bass; ECOCAST compatible - pair up to 50 units together within 30-feet of each other for TruWireless Stereo Sound (TWS) and the ultimate party
Tune the audio output by selecting 1 of 5 presets to match your listening preference; Back-lit buttons and large LED display for night viewing; A Qi Wireless charging pad for convenient smartphone charging and fast 5V, 2.1A USB output port to charge all your USB compatible devices
Connect to Siri or Ok Google to control you music with a simple touch of the ECOTALK button; Play continuously on standard AC plug-in power, or built-in battery for 10+ hours at full volume and up to 50+ hours at average listening levels; Battery fully re-charges in 7-8 hours
1 year parts and labor warranty: Great for BBQs, water fun, camping, rafting, poolside and more - no worries, just play; Oversized rugged wheels and telescoping handle for easy transport. Dual cup holders and a bottle opener are also included for added convenience