UFO Round Ice Mold – Make Out of this World Sci Fi Sphere Ice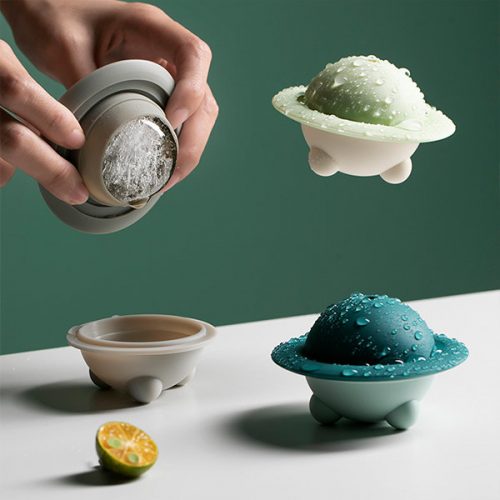 What do you mean it feels a little extraterrestrial in here? Oh, I see you found my UFO round ice mold. That's how I make perfectly sphere ice for all my best cocktails. Didn't you know, all the best inspiration comes when you think outside the box, or planet in this case.
Round ice cubes are better than traditional ones when it comes to cooling versus dilution. Since ball shaped ice has less surface area than an equivalent sized cube, it melts more slowly. Thus, your drink will be as efficiently cooled, while not diluting your beverage as much.  
Truly savor your whiskey on the rocks when you use a UFO round ice mold!
This adorable UFO round ice mold is the out of this world way to create ice spheres. Plus it's a lot more economical than buying a craft ice making freezer. Each UFO tray creates one 2.2" diameter round ice ball. The mold is made from food grade silicone that is both heat and cold resistant, making it ideal for use in making ice.
Round ice cubes are perfect for use in drinking straight liquor on the rocks. When you want your drink chilled, but not overly diluted, they provide the best solution. Here are some of the most popular alcohols to add a sphere ice cube:
Aside from use in your decanted drinks, you could also create flavored ice that's great in other drinks. Add in fruit or herbs during the freezing process. Transfer the cube to a glass and top with another drink. It makes a lovely base for a chilled champagne cocktail. Flavored sphere ice is also great with lemonade or iced tea if you're going the non-alcoholic route!
How do I make round ice cubes?
To make round ice cubes, first fit the two pieces of the mold together. Insert the small funnel in the hole at the top of the mold. Carefully pour water through the funnel until you see the water pool at the bottom. Remove the funnel, wipe the top, then place the mold in the freezer.
Once the ice sphere has frozen solid (generally about 3-4 hours) remove the mold from the freezer. Separate the top and bottom of the mold, setting the base aside. Then, gently press down on the top of the mold, using the side ridges to push against. The ice will pop out from the mold, ready to use.
If you want to make clear ice, make sure to use hot water when filling the mold. Be very careful when pouring water into the funnel to avoid burns. To add fruit or herbs, insert them in the first step of the process, before fitting the mold together.
Additional Notes
Available in grey, apricot, or green colors
Mold measures 2.2" H x 2.2" W for the ball, and with the outer rings is 3.3" W in total
Further showcase your love of aliens and spaceships with these UFO earrings that glow in black light

Flying Saucer UFO Dangle Earrings, Alien Spaceship with Abduction Beam Statement Stainless Steel Rave Earrings

You may find yourself drinking more whiskey now, so better grab a whiskey decanter globe to store it in

NEX Whiskey Decanter Globe Set, Etched World Globe Decanter, with Whisky Glasses, Whiskey Stones for Spirits Scotch Bourbon Vodka, Crafted Glass Flying Airplane, 1500ml Capacity, Alcohol Gifts

Alternatively, Star Wars fans may enjoy this Stormtrooper decanter instead

The Wine Savant Stormtrooper Bottle Decanter in Glass

STORMTROOPER HELMET DECANTER with 2 shot glasses. Based on the iconic helmet from the original 1977 film. SCI-FI DECANTER. Gift Recommendation: Starwars fans, unisex, father, boyfriend, girlfriend, girls. Perfect for best friends, love couple gifts. Suitable for red wine, whiskey, brandy, vokda...

Keep your drinks cool even longer with the help of an insulated whiskey glass – it goes perfect with your round ice!

Asobu Insulated Whiskey Glass and Stainless Steel Sleeve (White)

For a cool drink without the ice, try these stainless steel golf ball whiskey chillers!

Golf Ball Shaped Stainless Steel Whiskey Stones, Whiskey Rocks, By The Wine Savant Great for Parties or for Bar Use, 4 Stones Rocks Cubes for Whiskey, Bourbon Vodka, Scotch

If you need more than just ice spheres in your life, grab a Mario ice cube tray for some Mushroom Kingdom magic

Nintendo Super Mario Bros Reusable Silicone Ice Cube Tray for Fun Shaped Ice Cubes

Make sure to have a cocktail shaker set on hand for all the new creations you'll be whipping up to chill to perfection!

14-Piece Cocktail Shaker Set - Bar Tools - Stainless Steel Cocktail Shaker Set Bartender Kit, With All Bar Accessories, Cocktail Strainer, Double Jigger, Bar Spoon, Bottle Opener, Pour Spouts.