Human Hamster Ball – Hilarious Inflatable Bumper Ball Set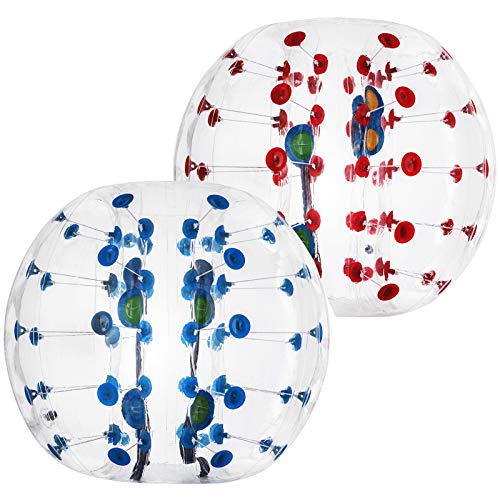 You kids are driving me crazy! How about you go outside and play with your giant human hamster ball set? You can be like little sumo wrestlers and work out all that energy. I don't care if it's snowing outside, just put on a jacket!
Bumper balls, sometimes referred to as bubble balls, or human sized hamster balls, are an inflatable ball that you wear like a sumo suit. These lightweight balls are filled with air, allowing you to bounce off others safely. Bumper balls are fun in pairs or even on a full team for bubble soccer.
A giant inflatable human hamster ball is the safe way to rough house and play!
An inflatable human hamster ball is made from a durable, non-toxic PVC material. Once fully inflated, it offers great protection. The bubble ball includes an ergonomic set of shoulder and hand straps. If you lose grip on one, the other keeps the ball in place. This makes inflatable bumper balls very safe.
These balls are waterproof and highly durable. You may use them indoors (with enough space) as well as outdoors. Bubble bumper balls are perfect for backyard games, a team soccer game, rolling down a hill, or even playing in the snow.
You'll receive a set of two balls – one in red and one in blue. These are sized 5 feet in diameter, which is appropriate for larger kids and adults with a height of 5'2" and up.
How do you inflate a human hamster bumper ball?
You inflate a bumper ball in a few easy steps. Remove the valve cap, and use an electric or hand pump to inflate the ball until it's fully expanded. It should be firm to the touch. Remove the pump, and replace the cap, making sure to push it fully so it seals completely. Your bumper ball is now fully inflated.
Note that this set of inflatable balls does not ship with a pump. If you own one, then great, otherwise you can easily purchase an affordable air mattress pump.
The bumper ball only takes a few minutes to inflate, and about as long to deflate. Just remove the cap and push out the air, rolling the ball up as you go. Store it away in a convenient place (away from sharp objects) until next time!
How long can you breathe in a Zorb or other type of bubble ball?
Not all bubble balls feature the exact same design. The Zorb ball (as well as many other human hamster style balls) seal a person completely inside the ball. It is only safe to use this style ball for around 15 minutes due to oxygen availability.
The inflatable bumper balls we're showing here allow for the occupant to receive fresh air, since the top and bottom are open. The ball should only extend mid thigh, and should not cover your head completely. You can walk, run, and breathe without restriction if used correctly.
Always make sure to use any type of inflatable ball with parental supervision. Ensure that the ball is sized appropriately for the person using it, and if you feel uncomfortable discontinue use.
Additional Notes
A smaller 4 ft diameter version is also available which is appropriate for heights 3'3″ to 4'9″
Best seller in Playground Balls with a 4.4 star rating!
Gently clean with mild detergent and water as needed – hose them down outside!
After knocking over people, try knocking down some pins with giant inflatable bowling!

Etna Giant Inflatable Bowling Set

Or try your luck knocking down pins on water with this giant slip and slide bowling waterslide!

Wow Watersports Strike Zone 19-2010, Giant 25 Foot Water Slide with Inflatable Pins and Sleds

If you really love being inside the ball, then add this giant inflatable human bowling ball game to your backyard!

The Human Bowling Ball

This is the inflatable bowling game that challenges players to assume the

Show that your time in the pubs wasn't wasted when you bring out this inflatable kickball dartboard!

Banzai Land Bouncer All Star Inflatable Outdoor Sports Kick Dartboard Game Set

You and your friends can literally step into your favorite arcade game with this inflatable human whack a mole!

Giant Inflatable Human Whack A Mole for Adults, Inflatable Interactive Game with Air Blower(14.8ft x 6ft)

Pretend to be a hamster on the water with this 65″ inflatable water wheel!

Tzsmat 65" Diameter Kids Colorful Inflatable Wheel Roller Pool Float for Pool Lake Outdoor Backyard Lawn

Bring a portable Badminton net and play in your yard, a park, or on the beach!

SUNBA YOUTH Badminton Net,Portable Badminton Net Set with Stand Carry Bag,Foldable Tennis Volleyball Net for Indoor Outdoor Sports, No Tools or Stakes Required

Give yourself some space in the yard when setting up this wooden Giant Jenga tower!

Yard Games Large Tumbling Timbers with Carrying Case | Starts at 2-Feet Tall and Builds to Over 4-Feet | Made with Premium Pine Wood