Tic Tac Toe Drinking Game – Matty's Toy Store Shot Glass Board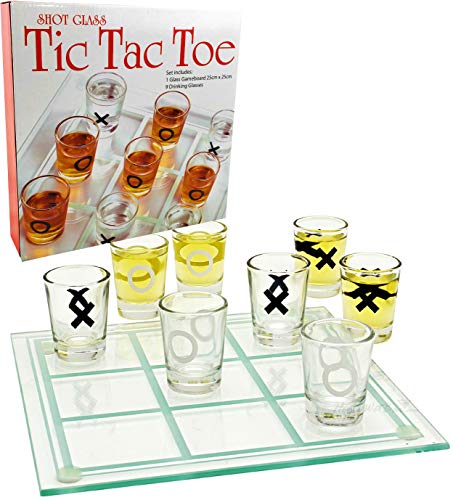 Murray, put down that beer pong set. Tonight we're playing Tic Tac Toe! I'm not pulling your leg. I bought a Matty's Toy Store glass Tic Tac Toe drinking game complete with shot glasses and a game board! We'll see how long we can keep connecting three in a row!
Play a game of drinking Tic Tac Toe with two players. With 9 total shot glasses, player 1 claims the symbol glasses with the odd number quantity. Place the X or O shot glass on the board, and switch turns to player 2. Keep alternating until someone wins by placing 3 symbols in a row or the board fills up. The loser takes a shot.
No one loses with the Matty's Toy Store Tic Tac Toe shot glass drinking game!
Next time you invite guests into your home, sit them down for a rousing game of shot glass drinking Tic Tac Toe! Instead of checking smartphones and social media, enjoy some one on one conversations with a tactile board game. While this is marketed as a drinking game, you don't have to use alcohol. Fill the shot glasses with your favorite soft drink, and you still have a functional game at hand.
The Matty's Toy Store Tic Tac Toe drinking game is a fun ice breaker. No need for paper and pencil with this version! The etched glass game board grid features nine squares and measures 10″ x 10″. Nine shot glasses are included, five "O's" and four "X's". This ensures that you have enough shot glasses to fill the entire Tic Tac Toe board. The player using the "O" glasses moves first to ensure the game plays out properly. Win by matching 3 symbols in a row or diagonally. If no one places 3 shot glasses in a row, then the game ends in a tie.
Again, you don't have to fill the shot glasses with alcohol when you play, but this game design is suited for adults. The idea is the loser drinks. If you play Tic Tac Toe in teams of two, then you have can also fill up all the shot glasses, and the losing team drinks their symbols. Tic Tac Toe games finish in a relatively short amount of time, so if drinking, please be responsible for your safety.
The Tic Tac Toe shot glass game makes a great gift and is perfect for your next adult game night party. If you like the traditional Tic-Tac-Toe game, you'll love this!
Additional Notes
Rated 4.6 stars
Game board dimensions: 10 x 10 inches
Package Weight: 1.9 pounds
Recommended for age 21 years and up
If using this novelty game with alcohol, please be safe and drink responsibly
Enjoy the randomness of PLINKO with an adult flair thanks to DRINKO the Price is Right drinking game!

DRINKO Drinking Game - Fairly Odd Novelties - Fun Social Shot Glass Party Game for Groups / Couples

If you're still feeling lucky, then try your hand at shot glass roulette 

Fairly Odd Novelties FON-10046 Shot Glass Roulette Complete Set drinking game, 16PCS, Red/Black

Don't knock down this Jell-O shot Jenga tower as that's a party foul!

Little Tipsy Jello Shot Tower

If you've played Uno before, then the Dunzo card game will be easy for everyone to pick up at the party!

DUNZO (BYOB Edition) - Party Version of Classic Card Game - Draw Two, Skip, Reverse, Get Loco - Fun Games for Family and Friends - Perfect for College Parties, Birthdays, Bachelorettes, or Any Event!

Internet fans will love sitting down and playing What Do You Meme to determine the Meme King or Queen!

What Do You Meme? Adult Party Game

This quaffer shot glass set lets you mix and take shots with a unique double bubble design!

Quaffer Double Bubble Layered Plastic Shot Glass 1.25oz On Top 2.25 oz On Bottom Set Of 4

Traditional video game fans will love drinking from this Super Mario warp pipe shot glass set!

If you prefer a unique version of Tic Tac Toe for game night, then check out the 3 dimensional Otrio board game!

Otrio Strategy-Based Board Game, for Adults, Families, and Kids Ages 8 and up, by Marbles Brain Store