Dunzo Card Game – The Drinking Game for College and Parties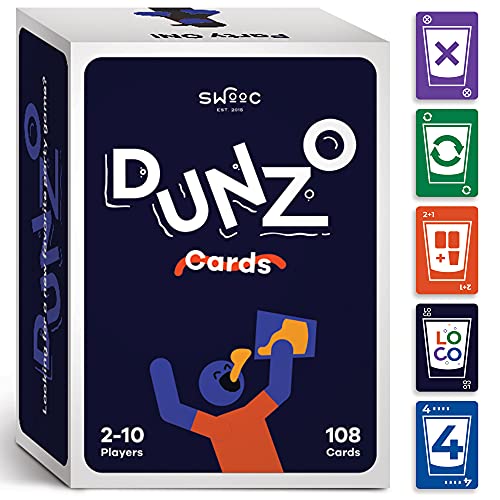 I'm just sitting here trying to think how I can turn Uno into a drinking game for the party this weekend. I don't have to think anymore, because you found the Dunzo card game which is exactly what I wanted? That sounds great!
The Dunzo card game is often referred to as 'drunk Uno' as it turns the classic into a drinking game. It's designed to be used with your beverage of choice, whether alcoholic or not. It follows the same rules as classic Uno, though, with the added beverage element.
The Dunzo card game is the grown up version of classic Uno that's ready to party!
The Dunzo card game is perfect for adults who love card games and parties. While it's styled after the traditional Uno game, it has the addition of drinks. It's perfect for parties, birthdays, holidays, and any group get together!
Dunzo is designed to be played by 2-10 players. If you'll have a larger group, simply add a second deck, and play with up to 20 people!
Each deck contains 108 paper cards that will look familiar if you've played Uno. It features colored number cards, reverse, draw two, and also skip to look out for. The 'wild' cards have been replaced with 'loco' cards for this game but have the same effect.
What are the Dunzo game rules?
The rules of the Dunzo game are fairly simple. The first player to 500 points wins. Points are awarded when one player plays all of their cards. They then receive points based on the cards their opponents are left holding.
Each card has a specific point value:
Number cards grant points equal to the number on the card
Skip, Reverse, and Draw 2 cards are worth 20 points each
Loco cards give you 50 points
It will likely take multiple rounds of play for one person to accumulate 500 points in total to win.
How do you play Dunzo?
Here is how to play Dunzo:
Everyone draws a card, and the person with the highest value card is the dealer.
Shuffle the deck and distribute 7 cards to every player. Place the rest in the center of the table, and flip over the top card of the deck to serve as the starting card.
Play rotates counterclockwise to begin
On their turn, each player will play a card. Just like regular Uno, you want to match the color, number, or text on the previously played card.
Specialty cards create different actions. Skip is used to skip the next person's turn. Reverse changes the rotation of turns (so clockwise becomes counterclockwise, for example). Draw 2 makes the next player in line add 2 cards to their hand.
Loco cards are wild, allowing you to change the color to anything you'd like. Loco 4 does that, while also making the next player in line draw 4 additional cards to their hand. Ouch!
When a player is playing their second to last card (leaving one in their hand) they must proclaim 'dunzo' before the play, or else face a 4-card drawing penalty.
What makes Dunzo different from Uno is the addition of drinking to the game play:
Draw 2, Skip, and Reverse cards will have the affected player take a shot
Loco 4 cards prompt the player to take two shots
Depending on your luck or skill, this game may become harder and harder as the night goes on!
Additional Notes
Recommended for ages 21+
Always drink responsibly
Deck measures 3.5 x 2.64 x 1.77 inches for easy portability to any get together
If you're comparing prices, this drinking card game is also available on Brookstone
Shot glasses not included – I recommend these unbreakable shot glasses to prevent a party mishap!

SWOOC - Unbreakable Shot Glasses Set (6 Pack) - 250x Stronger Than Glass, 25x Stronger Than Acrylic - Colorful & Dishwasher-Safe - 1.5oz Reusable Drinkware for Indoor / Outdoor Fun - DUNZO Compatible

For other great party games, check out this Tac Tac Toe drinking game 

Matty's Toy Stop Tic-Tac-Toe, Three in A Row Shot Glass Drinking Game with 9 Shot Glasses and Glass Game Board (10" x 10")

How about Drinko? It's where the classic game of Plinko meets drinking!

DRINKO Drinking Game - Fairly Odd Novelties - Fun Social Shot Glass Party Game for Groups / Couples

For the Internet Meme Lovers, try out this hilarious What Do You Meme Game!

What Do You Meme? Adult Party Game

Try your hand at Jell-O shot Jenga. It's harder to have a steady hand the longer you play!

Little Tipsy Jello Shot Tower

Take a chance with shot glass roulette, and live life on the edge!

Fairly Odd Novelties FON-10046 Shot Glass Roulette Complete Set drinking game, 16PCS, Red/Black

Looking for a version you can play with the kids? Check out Uno Minecraft for a child-friendly fun take on the game!