Thermacell Patio Shield Mosquito Repellent – 15′ of Protection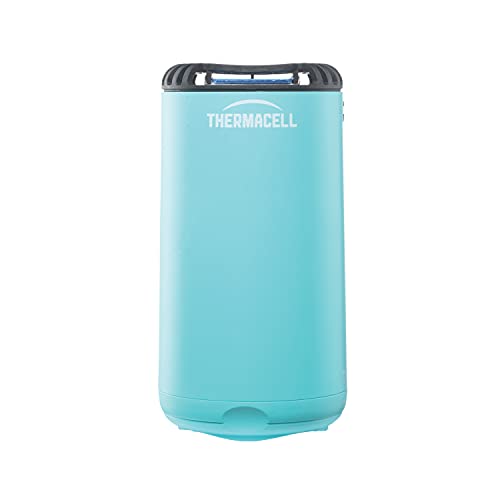 I just can't take these mosquitos anymore. It feels like they're everywhere, just making a snack out of me. I want to enjoy our patio, but I also don't want to spray toxic aerosols everywhere. Maybe I'll give that Thermacell patio shield mosquito repellent a shot.
Thermacell mosquito repellent works with plant-based ingredients. They are heated by an internal fuel source, and this creates an invisible barrier to repel bugs. It's a proven alternative to pesticide-based repellents, making your patio more pleasant in the summer.
Turn the Thermacell patio shield mosquito repellent on and turn your backyard into a bite-free zone!
The Thermacell patio shield mosquito repellent system is designed to create a bug-free zone in your outdoor space. This small canister-shaped device is perfect for keeping away the biting mosquitoes so that you can enjoy time with family and friends.
Simply place the canister in the center of the area you'd like to create a bug shield. Insert a repellent mat in the top of the unit. Each mat is good for 4 hours of use, and the unit comes with 3 for starters. Next, insert the fuel cartridge by twisting it into the bottom. Each of these will run for 12 hours total, which is enough to use all the repellent mats. Turn the Thermacell mosquito repeller to the 'on' position, and click to start. The light on the front will turn orange to let you know it's working.
In about 15 minutes, the fuel cartridge will heat up, releasing the repellent from the mat. This in turn creates a 15 foot bug barrier with the Thermacell patio shield in the center. Your area will be bug-free and pleasant, perfect for outdoor entertaining, relaxing in the pool or hot tub, and more. Plus, since the Thermacell requires no batteries or other power source, it's highly portable as well. Pack it along camping, at the park, at the beach, or wherever bugs are biting.
What bugs does Thermacell repel?
Thermacell is designed specifically to repel mosquitoes. While some users have reported success with other bugs such as gnats, black flies, and other biting insects, this is not scientifically proven. Thermacell will not repel ants, bees, roaches, spiders, and other similar pests.
Is Thermacell safe to breathe?
Thermacell is safe to breathe. In fact, it's been approved by the EPA for both safety and effectiveness for human use. The system creates no smoke, uses no harsh chemicals, and doesn't trap bugs creating a buildup.
Additionally, no flame and no citronella means that the mosquito repeller isn't pushing other airborne agents. It fully replaces the need for sprays and candles in your outdoor space. However, it still is recommended to turn off the Thermacell patio shield before serving food. Alternatively, you can move it out of the direct range temporarily.
Does the Thermacell patio shield have DEET in it?
No, Thermacell does not have DEET, or any other chemical pesticides in it. The main component is Allethrin, which is in a class of Pyrethroids. This ingredient is derived from flowers, and generally considered safe for humans.
It should be noted that while Allethrins is generally considered safe for humans, dogs, and birds, it can be toxic to other animals. Make sure to keep your cats inside, and never use Thermacell near a pond with fish. Additionally, it is unsafe for bees, so avoid using it in areas where you may contaminate flowers.
Additional Notes
Pictured here in blue, but also available in red, gray, green, magenta, navy, and white
Metallic colors are also available in bronze, obsidian, rose gold, and nickel
Replacement repellent mats and fuel cartridges sold separately
Mat needs changing when it has turned completely white
#1 best seller in Pest Repellents on Amazon
Rated 4.3 stars with over 30,000 reviews – buy with confidence!
Add this color changing citronella candle for added mosquito protection and a fun lighting idea

Coleman Color Changing LED Citronella Outdoor Scented Candle - 8 oz

Protect the interior of your home with these ultrasonic pest repeller plug ins that are safe for pets!

Ultrasonic Pest Repeller Plug in Pest Repellent – Rodent Electromagnetic Bionic for Indoor - Non-Toxic Electronic Insect Spiders Mice Rats Roaches Ants 4 Pack

Want an eco-friendly way to take down house flies? Try shooting the Bug-A-Salt instead

Keep an electric fly swatter on hand for both indoor and outdoor zapping!

Elucto Large Electric Bug Zapper Fly Swatter Zap Mosquito Best for Indoor and Outdoor Pest Control (2 DURACELL AA Batteries Included)

Need to wander out of the radius of protection? Strap on a Para'Kito wristband for protection on the go

Para'Kito Party Edition Wristband Berlin

If one of those suckers got you anyway, use the Bug Bite Thing to make it feel better!

Bug Bite Thing Suction Tool, Poison Remover - Bug Bites and Bee/Wasp Stings, Natural Insect Bite Relief- Black/Single

Relax under this hot tub gazebo with a Thermacell protecting you from bug bites!

SummerCove Cameron 11 ft. x 11 ft. Cedar Wood Framed Hot Tub Gazebo with Steel and Polycarbonate Hardtop, Matte Black