Ultrasonic Pest Repeller Plug In – Safe for Humans and Pets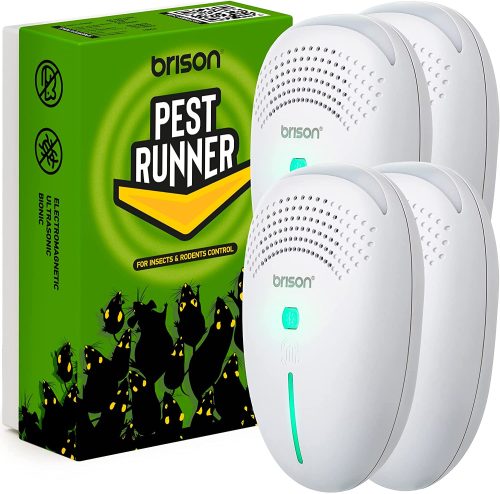 I love going outside to catch lightning bugs in the summer, but when it comes to inside my home, I draw the line! Thanks to an ultrasonic pest repeller, I keep anything that crawls or flies where it belongs – outside somewhere else!
An ultrasonic pest repeller is a wall plug-in device that emits high frequency sound waves. It's too high for humans to hear, but rodents, insects, and other pests will find it completely intolerable. They work best with common household pests, such as ants, spiders, rats, mosquitoes, or roaches.
Eliminate unwanted pests without harming your pets with an ultrasonic pest repeller!
No matter how clean I keep my house, little pests always find a way to intrude. The Brison ultrasonic pest repeller is a safe device to help eradicate those unwanted pests.
To implement the best pest management strategy, the latest technology has been used to develop and design this wall plug-in. This technical development makes the Brison one of the premium ultrasonic pest repeller plug-ins on the market.
Fitting easily into your wall socket, the repeller is lightweight and slim. This allows it to be used in a multitude of places, such as your home, warehouse, office, or summer cottage. In short, plug it in anywhere you want to be without unwanted guests!
Each of your Brison ultrasonic pest repeller plug-ins has a wide area of coverage (up to 1,300 square feet) to give you peace of mind regardless of where you are in your home. A built-in night light sensor adds additional ambient lighting at night. I love multifunctional items!
This package comes with a total of 4 repellers, but 2-pack and single unit options are also available based on the size and setup of your home.
The high-frequency waves are a combination of ultrasonic, bionic, and electromagnetic. This makes them effective, yet poison-free, pet safe, and eco-friendly. If I can save the environment alongside my sanity, that's always a plus!
Do ultrasonic pest repellers work through walls?
No, ultrasonic pest repellers do not work through walls. Floors, doors, cabinets, ceilings, large heavy furniture, and thick draperies will also block the signal.
It is recommended that one pest repellent plug-in device be placed in each room of your home. If you have a particularly large or divided room, add multiple units for best results.
How long does it take an ultrasonic pest repeller to work?
On average, it takes about 3-4 weeks for an ultrasonic pest repeller to work.
If you have an active infestation in your home, you may see heightened activity for a few weeks as the pests begin to leave. After the repeller is established, then bug activity should diminish.
Are ultrasonic pest repellers safe for pets?
Ultrasonic pest repellers are generally considered safe for pets such as dogs or cats. If you have smaller pets such as rodents or birds, however, they are more likely to be bothered by a repeller.
They are entirely safe for humans, and you won't hear anything at all coming from the units.
Additional Notes
Avoid placement in direct sunlight or high humidity areas (like a bathroom)
Top seller in Indoor Ultrasonic Insect & Pest Repellers with a 4.3-star rating!
Take care of those garden pests with a little extra flair thanks to Bug-A-Salt!

Got a bite? Use the Bug Bite Thing to remove the sting and lessen the itch!

Bug Bite Thing Suction Tool, Poison Remover - Bug Bites and Bee/Wasp Stings, Natural Insect Bite Relief- Black/Single

Give yourself a 15′ dome of protection with the Thermacell Patio Shield mosquito repellent system!

Thermacell Patio Shield Mosquito Repeller, Blue; Highly Effective Mosquito Repellent for Patio; No Candles or Flames, DEET-Free, Scent-Free, Bug Spray Alternative; Includes 12-Hour Refill

If you want personal protection and style, then strap on a Para Kito wristband for mosquito protection!

Para'Kito Party Edition Wristband Berlin

Whether indoors or out, get rid of pesky insects with this electric fly swatter!

Elucto Large Electric Bug Zapper Fly Swatter Zap Mosquito Best for Indoor and Outdoor Pest Control (2 DURACELL AA Batteries Included)