Jumbo Lawn Launch – Great Outdoor Game like Roll and Score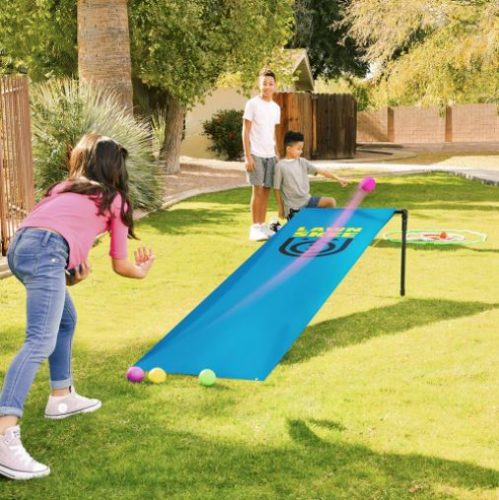 What? No, you kids can't carry the Skee Ball machine out of the game room. I don't even want to think about how much chaos that will cause. You want to play in the backyard? Here, play with this jumbo lawn launch game instead. It's the Roll and Score / Skee Ball made for backyard play!
Lawn launch is an outdoor lawn game that emulates Roll and  Score or Skee Ball from the arcade. Players throw a ball down a ramp, which launches towards a set of rings. Depending on which ring the ball lands in, points are assigned. The player with the highest score wins.
Bring your arcade favorite to your backyard with the jumbo lawn launch game!
Lawn launch is a jumbo yard game that brings the fun of Skee Ball (also known as Roll and Score) to your backyard. A 7' long blue polyester ramp serves as the launching board for this game. It's secured into your lawn with the help of stakes and tethers, which come included.
You'll receive 3 different rope scoring rings, which are laid on the grass:
Large, which is bright green and worth 5 points
Medium, in a red color and worth 10 points
Small, a blue circle for 20 points
Choose whatever format you'd like to lay the scoring rings out. They can be stacked inside one another, or laid out separately in various locations. Try different setups for different levels of challenge!
Once everything is in place, it's time to play! This lawn game includes six foam balls in the set. You'll receive one each of: yellow, blue, green, purple, pink, and red. Players simply roll the balls up the ramp, trying to aim the balls so they land in the scoring rings. Take turns tossing, and the highest scoring player wins! Since the balls are foam, they're safe for use around the windows, doors, and even float if they land in the pool. It's great fun that the whole family can enjoy!
Additional Notes
Recommended for ages 3+
For an indoor game, check out this awesome Roll and Score table instead
Looking for more lawn games? Here are some of our favorites: