Solar Wind Chime – Color Changing Eco Friendly Wind Mobile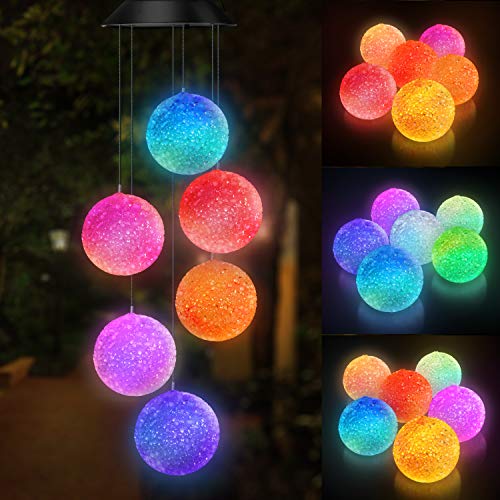 I decided I wanted to add some vibrant colors to the porch this year. My black thumb, though, says that flowers are a bad idea. Instead, I'm opting for a solar wind chime to add some brightness. You want to know what a solar power wind chime is?
A solar power wind chime is a mobile style decoration designed to hang in your home. It stores power from a solar panel during the day, using it to light up in the evening. Different options may include bells, but many are silent and just designed for aesthetics.
A solar wind chime uses the sun to light up the night, adding beautiful décor to your home!
This gorgeous solar wind chime works by using integrated solar panels to charge during the day. When it turns to night, the LED balls light up, using the stored energy from the sun. A full charge during the day will give you between 6-8 hours of consistent lighting at night.
The chime features six crystal ball shaped lights, staggered in a pattern like a mobile. Each ball is about 2.5" in diameter, and appears white during the day. When it's dark, internal sensors automatically light each ball up, using the internal LED bulbs. They softly change colors at random, so you can enjoy a myriad of hues all night long. The LED bulbs are rated for 100,000 hours of use, so you never have to worry about them burning out.
It's an easy and eco-friendly way to add some lighting to your outdoor space. Add several to your outdoor space to create a lighted garden environment. Since there is no power required, they can be moved nearly anywhere! An on/off button is included as well, so you can turn them off if you won't be there to enjoy them.
Where do you hang solar wind chimes?
The best place to hang solar wind chimes is where they will get direct sunlight for 6-8 hours a day. Most often this is a porch, patio, sunroom, or other sun-friendly location of the home. They also dangle downwards from a hook, so choose a place with adequate space for the chimes to move freely.
These chimes are entirely waterproof and designed to be safe for outdoor use. As with many outdoor decorations though, if you are expecting severe weather, it's best to bring your chimes inside. Hanging décor may come loose in high winds, or be damaged.
Additional Notes
Made from recycled plastics
Both heat and cold temperature resistant
Lights will be weak or pale if it is not getting adequate sunshine to charge
Comes with a swivel hook for mounting
Weighs about 11 ounces
May be powered by AA battery for indoor use
Does not move on its own, but will spin with wind outdoors
No sound – this is not a chiming model
If you'd like a model that will make noise, check out this dragonfly chime or the star chime. The components will collide with one another to make sound
#2 best seller in Decorative Mobiles on Amazon
Rated 4.4 stars with over 3,000 reviews!
If you like this chime, you may also love a solar wind spinner for the yard
Check out these solar flower lights to add brightness to your landscaping at night
This solar bird feeder will allow you to watch your feathered friends in the evening as well!