Slackline Swing Set – Quick and Easy Backyard Pop Up Swing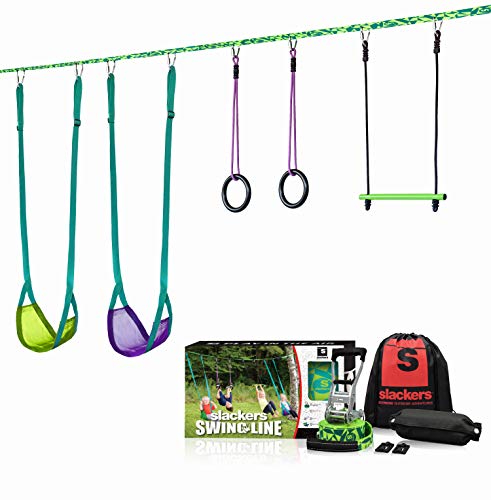 No, you kids don't need one of those fancy metal swing sets. I don't want it hanging around in the yard for years when you outgrow it. Look, we have two perfectly good trees and a slackline swing set that we can make use of instead.
A slackline swing set utilizes two mature, healthy trees to serve as the supports. A strap is secured between them, which provides a place to attach swings and other toys. This set is easy to set up and take down, making it far more portable and economical than a traditional swing set.
The pop up slackline swing set adds backyard play with no complicated construction!
The slackline pop up swing set allows you to set up a backyard play space in as little as 30 minutes! The signature Swing Line ratchet system utilizes two mature, healthy trees as the base for which to string the support rope. Your two trees should be no more than 30 feet apart, so make sure to find the perfect candidates. Then simply tighten the ratchets, slip the protective covers on, and you're ready for play.
Once the Swing Line is hung, you'll be able to easily attach the included components via a carabiner system. You'll receive two traditional swings, a set of gym rings, and a monkey bar. All four will fit side by side if your strap is maximum length, but can also be interchanged if not. Adjustable grip clips make repositioning easy as needed. Additionally, you can always add new and different compatible attachments, such as this wooden seat swing.
If you move or would like to take the slackline swing set elsewhere, it can be taken down and placed into a convenient carry bag. Plus, it won't get in the way of lawn mowing either – how convenient! The set is the perfect addition to keep kids active and healthy. It's like hosting recess at home! With a weight limit of 250 pounds, it should safely accommodate 2-4 children, depending on age and size.
Additional Notes
Recommended for ages 3+
Adult supervision is recommended
Set weighs 11 pounds in total
Got bigger kids? Check out the Swurfer skate swing for more backyard fun!
Kids enjoying the monkey bars? How about a jungle gym climber to keep them active?
Love toys that you can hang from trees? This hanging tree tent is like a little slice of paradise in your yard