Sparkling Water and Soda Maker – Sparkel Beverage System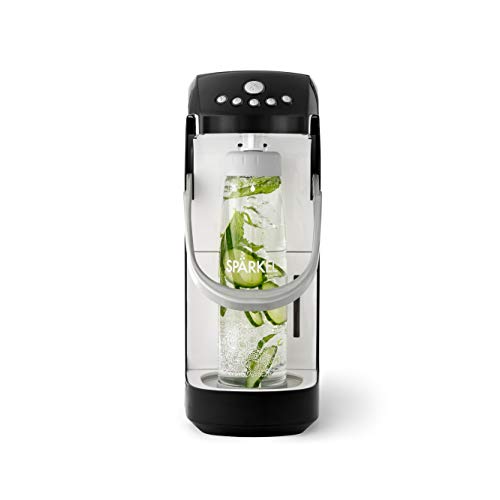 I'm really into sparkling water lately. It's just crisp and refreshing, and a great alternative to sugar-filled soda pop. I just wish that there were a greater variety of flavors and types of sparkling beverages available to purchase. So, I've decided to use the Sparkel sparkling water and soda maker beverage system to make my own!
The Sparkel beverage system is an alternative to the SodaStream and uses no CO2 tank. This makes getting replacements more convenient, with no exchange needed. Sparkel offers versatility for use with many different types of drinks, including water, tea, alcohol, and more.
Use the Sparkel sparkling water maker beverage system to create all sorts of fizzy drinks to enjoy!
The innovative Sparkel beverage system can create a variety of different drinks. This sparkling water maker works to infuse any liquid with CO2 bubbles, without the need for a tank.
It of course works with water, but you can also use the Sparkel sparkling water beverage maker system with:
Iced tea
Lemonade
Fruit juices
Wine
Spirits
Sports drinks
And more!
For additional flavor variety, add in fruit, spices, or herbs to jazz it up. I love adding fresh strawberries to sparkling lemonade for a refreshing treat. It's a great way to have fun with your food and makes hydration that much easier!
How does the Sparkel machine work?
Making drinks is very simple with this innovative system. Here's how the Sparkel machine works:
Plug in the Sparkel
Ensure the reservoir on the rear is filled with plain water. This will need to be refilled every 8-10 bottles
Fill the bottle. Put your desired liquid for sparkling in the included bottle
Place the bottle on the base below the spout
Flip open the top, and add two Carbonator packets. Use one packet labeled 'A' and one packet labeled 'B' to start the chemical reaction. Make sure to close the top when done
Choose your level of bubbles. There are 5 levels of adjustment from lightly bubbly to serious bubbles
Press the big button on top to start
Let the machine finish carbonating your drink. Enjoy!
The Carbonator activates using the plain water from the reservoir. The CO2 created from this reaction then flows into your drink while building pressure based on your setting. The bottle maintains pressure until opened, so you can prepare drinks in advance!
What size are Sparkel bottles?
Each Sparkel bottle is sized to hold up to 25 ounces (750mL) of liquid. There is a max fill line to prevent overfilling on the machine.
It comes with one starter bottle, and additional bottles are sold separately if you'd like extras on hand. I prefer having two, so one is always chilling in the refrigerator while I'm enjoying the other.
Additional Notes
Cold liquids give the most successful results
Ships with 10 Carbonators to get you started, and replacement Carbonators come in a pack of 90
Available in black (pictured), red, pink, seafoam green, silver, or white
Unit is 10 x 5.65 x 15 inches and weighs about 10 pounds
Power cord is 120V (US) / 60Hz / 20W
Bottles are BPA free and dishwasher safe
Top 10 best seller in Soda Makers on Amazon
4.3 stars with over 1,600 ratings – get your sparkle on!
Portion your sparkling water out with different fruits with the help of this handy fruit infuser water bottle. Perfect for on the go!

asobu Flavor U See a Stainless Steel Fruit Infuser Slim and Classy Water Bottle (Silver)

Add your sparkling drink and alcohol if desired to these Craftstirs single serve cocktail mixers for a quick and easy cocktail!

CraftStirs Cocktail Mixers 24 Single Serve Packs (Variety Pack, 24)

While gin and tonic is a classic drink, sometimes I mix it with sparkling water too. What better way to have some fun than with this color changing gin infusion kit and your new sparkling beverage system?

Colour Changing Gin Infusing Kit - Make a whopping Five Bottles of Your own Magically Colour Changing Gin - Amazing Gift for Gin and Cocktail Lovers

If you love the idea of creating your own homemade infused oils, then check out the Levo 2 herbal infusion machine!

LEVO II - Herbal Oil and Butter Infusion Machine - Botanical Decarboxylator, Herb Dryer and Oil Infuser - Mess-Free and Easy to Use - WiFi-Enabled via Programmable App (Robin Blue)