Fruit Infuser Water Bottle – Drink Healthy with Added Flavors!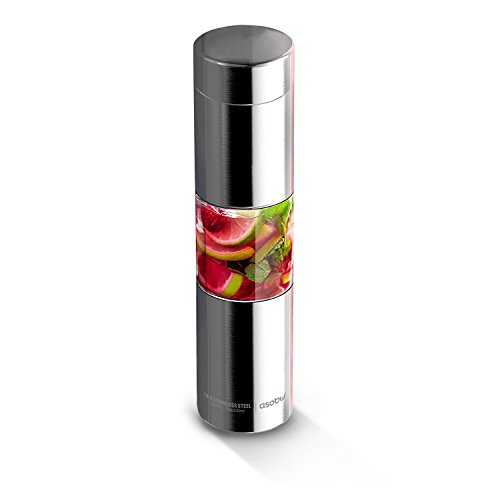 Well, I just smacked my own face with a lemon. I really need a fruit infuser water bottle to prevent that from happening. Hydration is important, but I love to jazz mine up with some fun flavors!
A fruit infuser water bottle is good for anyone who gets bored drinking plain water. By adding various combinations of fruits, vegetables, tea leaves, or herbs, you'll create interesting flavors. The strainer keeps everything in place, while you enjoy cool, refreshing flavored water.
Put your favorite fruits in this Asobu Flavor U fruit infuser water bottle for great-tasting hydration!
Did you know you're supposed to drink more than half a gallon of water every day? I get tired after the first glass, but no more thanks to my fruit infuser water bottle.
See, this is a Asobu Flavor U water bottle designed to put fruit (or other tasty ingredients) in. There's a small BPA-free chamber with a colander style cap on each end. Place your fruits in that to keep them from getting stuck while drinking, but the water passes freely through for great flavors!
With a capacity of 16 ounces of water (10 after adding fruit), about 8 fills of this bottle will get you your daily hydration intake. Fruit generally provides flavor through 3 refills in an infuser, and after that you'll want to switch it up.
This fruit infuser water bottle is made from double-walled stainless steel that not only looks great but is insulated too. It keeps your beverage chilled for up to 12 hours! It's great for the office, the gym, home, or anywhere you go.
What is best to put in a fruit infuser water bottle?
The best things to put in a fruit infuser water bottle are flavors that encourage you to drink. Cut up fresh fruits and vegetables, iced tea bags, and herbs are all great choices. Here are some of our favorites:
Lemon, adding basil or thyme for extra flavor
Orange – ginger is a great pairing
Strawberries with lemon or mint for variety
Pineapple, with added jalapeno for a spicy twist
Cucumber & lime is cool and refreshing
Kiwi and mango for a tropical vibe
Pear & lavender for sweet relaxation
Apple with cinnamon sticks for dreams of pie
Earl Grey tea with lemon or orange for brightness
Remember that this is designed for use in cold water, so you'll want ingredients that don't need heat to activate the flavor. If you're making batches or preparing in advance, the fruit can sit for around 24 hours safely. Store the infused water for up to 3 days in the fridge (if it lasts that long)!
Infusers work with both flat and sparkling water, so get creative and enjoy some fresh flavor combos!
Additional Notes
Slim design measures 2.25" W x 9.5" H
Not for use with loose leaf tea or hot water
Recommended hand washing, though it's technically dishwasher safe
You may also like the O2Cool Mist 'N Sip water bottle, which you can drink or get a refreshing spritz from!

O2COOL ArcticSqueeze Insulated Mist 'N Sip Squeeze Bottle 20 oz., Green/Purple Splash

For a slim and sleek design, try out the memobottle flat water bottle!

A5 memobottle - The flat water bottle that fits in your bag | BPA Free | 750ml

Keep your meds and your water together for convenience with this innovative pill box water bottle 

Asobu Combine Daily Pill Box Organizer with Water Bottle, 20 oz, Black (Yellow)

Make your own sparkling water with the Sparkel sparkling water and soda maker beverage system

Spärkel Beverage System (Black) - Sparkling Water and Soda Maker - A New Way of Sparkling - Use Fresh & Natural Ingredients - No CO2 Tank Needed

Just want plain water but still need help with hydration goals? The Hidrate Spark bottle tracks water consumption via an app, and glows if you're not drinking enough!

Hidrate Spark 3 Smart Water Bottle, Tracks Water Intake and Glows to Remind You to Stay Hydrated, BPA Free, 20 oz, Black

Enjoy turning any food flavor sweet with the Miracle Fruit Mberry tablets!

mberry Miracle Fruit Tablets, 10-Count