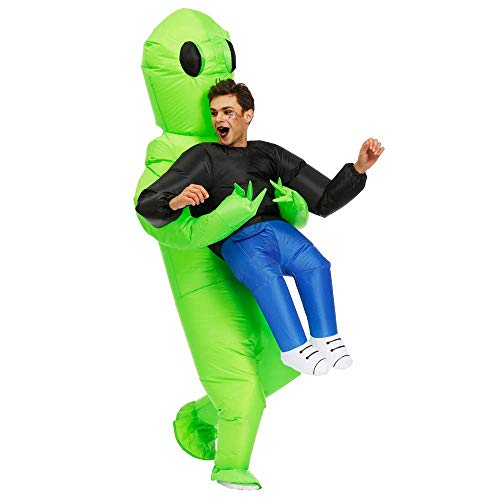 Help, I'm being abducted by aliens! Just kidding, I'm just wearing my inflatable alien abduction costume. It's so awesome, one could say this Halloween kidnapping is out of this world!
This hilarious alien abduction costume for adults is the perfect extraterrestrial touch for Halloween. It inflates in seconds to provide a quick, easy, and comical costume. So, ready the transporter because we're heading to the mothership.
The invasion has come with this inflatable alien abduction costume!
Hide the cows, and hold onto your shorts, this inflatable alien abduction costume is out of this world. Simply pull it on over any old outfit, zip up the zipper in the back, and you're ready to roll. I love quick and easy costumes!
This alien abduction costume fits most adults ranging in size from 5'3" to 6'3". It should fit most humans, and any aliens in human disguise. Like, alien inception or something.
The costume is made from a tough 190D waterproof polyester fabric. It resists tears and won't melt if you get caught in a little rain. I feel bad for that witch, though.
No need to call the Men in Black; this costume is super easy to operate. Just fill the included battery pack with 4AA batteries, and you're ready to roll. If that's not your style, then connect a USB power bank to the fan instead!
Whether it's a Halloween outing, office party, bachelor party, or a night on the town, you're sure to bring smiles and fun along with this costume. Or, grab a few and roam as a group with friends. It's called an invasion for a reason!
Additional Notes