Incoherent Game – IncoHEARent | Adult Party Card Game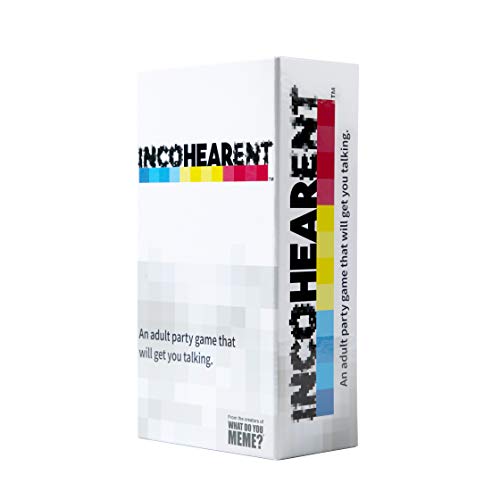 What do yinz want to play tonight for game night? Yes, I'm bringing the Iron City. What's this incoherent game you're talking about? Oh, it's IncoHEARent?  Sounds like a good time – yeah we'll leave the kids at home with the babysitter! This game is for adults!
Be aware that IncoHEARent is a game intended for ages 17+. This incoherent game (while clever) is not suitable for children. The creators of IncoHEARent make that clear with their three categories consisting of Pop, Party, and Kinky cards. With your friends, laughs are plentiful, but the various mature content and references would not be appropriate for children.
IncoHEARent will have you laughing all night at this incoherent game!
The incoherent game of IncoHEARent (see what we did there?) will have you laughing for hours! This adult party game (seriously, 17+ only – it can get a little racy and you definitely don't want to play this with Grandma at Thanksgiving) will have you and your friends trying to make sense from gibberish in one of three categories – kinky, party and pop culture.
It's easy to play (great if there's alcohol involved in your game night) – the judge flips the timer and holds up a card. The answer faces towards them, and everyone else sees the gibberish phrase. Everyone reads it aloud and attempts to figure it out – the first person to guess correctly wins the round! The judge passes every three cards, and the first person to 13 cards (from winning the round) is crowned the winner. Recommended for 2 – 20+ players (as long as you can still read the cards from wherever you're sitting) so it's great no matter the size of your get together!
In the kinky category, you might see cards such as 'for wren shuck his sing'. Spoiler alert, the answer is 'french kissing'. In pop culture, figure out what 'slight tint huey ore tea hems' means. It sounds like gibberish, but the answer is a smooth 'slide into your DMs'. The last category is ready to party! If you know how to party, maybe you can unscramble 'ford went he'. Give up? The answer is 4/20!
IncoHEARent contains 500 cards for loads of incoherent game play fun! It also includes a timer, directions and a handy storage box. If you're a fan of Cards Against Humanity and other adult themed card games, then give this a try!  Also makes a great gift for your adult friends (but please for the love of all things don't gift this to your mother in law)!
Additional Notes
Has 4.7 Stars on Amazon with over 13,000 ratings!
Ranked #9 in Card Games (Toys & Games)
Future expansion packs are being planned
You can also try out the meme-tastically popular What Do You Meme Game created by the same developer!

What Do You Meme? Adult Party Game

For a party game to play with your partner, try out the Talk, Flirt, Dare couples game!

Fun and Romantic Game for Couples: Date Night Box Set with Conversation Starters, Flirty Games and Cool Dares - Choose from Talk, Flirt or Dare Cards for 3 Games in 1 - Lovely Gift!

Can you decipher fact from myth? If so, then try your hand at the Stupid Deaths party game!

University Games Stupid Deaths The Party Game, Funny Card Game & Board Game for Adults & Teens Ages 12 & Up (01404)

If you prefer more drinking with your party game, then try out the Tic Tac Toe drinking game!

Matty's Toy Stop Tic-Tac-Toe, Three in A Row Shot Glass Drinking Game with 9 Shot Glasses and Glass Game Board (10" x 10")

Pick up the Dunzo card game if you've ever wanted to officially play drunk Uno at your party!

DUNZO (BYOB Edition) - Party Version of Classic Card Game - Draw Two, Skip, Reverse, Get Loco - Fun Games for Family and Friends - Perfect for College Parties, Birthdays, Bachelorettes, or Any Event!

Discover Clue games based on TV and Movies! We discovered all the Cluedo games that transformed your favorite franchises including the rare options!