Smart Bird Feeder with Camera Detects Over 6,000 Species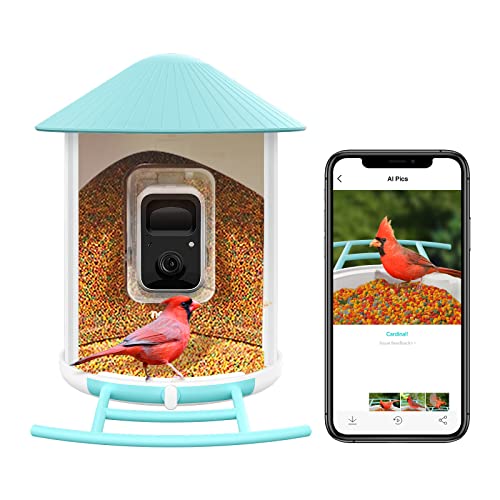 Now that I work from home, I've recently gotten more interested in bird watching. I love the colorful birds that come to my feeder and learning more about them. Thanks to my new smart bird feeder with camera, now I don't miss anything even when I step away to take a call! So, what is a smart bird feeder?
A smart feeder uses a camera and AI recognition software to compare visiting birds with a database. It's able to recognize thousands of species and record their visit, as well as take photos. It's a great way to track bird habits in your area, as well as perhaps catch rare birds passing through.
Explore the colorful and fascinating avian world using a smart bird feeder with camera!
This smart bird feeder with camera is an incredibly innovative new way to feed your backyard birds!
The feeder itself features a 1.1L capacity gravity-fed plastic feeder. It's got a tray and two different perches to make a variety of different birds happy. The weatherproof design helps resist mold buildup and ensures that your birds can get fed in inclement weather.
A built-in camera is what truly makes this bird feeder special. Using high tech AI technology, a bird is compared with a database of over 6,000 species so you know exactly what type is in your yard.
It's great for any enthusiast who watches birds, and also a great educational tool for kids to learn more about them. Use the free app to get a detailed introduction to the species.
The app is also handy in that it will notify you if a pesky squirrel shows up to steal your bird seed! Much like a smart doorbell, you can talk through the microphone in the camera. Shoo the squirrel away, or flash lights at it to scare it off.
Speaking of the lighting, the included camera is 1080p high definition with LED spotlight night vision. You'll be able to see nocturnal visits just as clearly as those during the day. The 110 degree wide angle lens captures a variety of bird sizes, and the camera may be tilted to get the perfect view.
Data is transmitted via a stable 2.4 GHz Wi-Fi connection with the integrated antenna, so it will need to be near your home to receive a signal. However, the backyard is generally fine unless you're putting it 5 acres away on the farm.
How do you install a smart bird feeder with camera?
There are two options to install a smart bird feeder with camera:
Screw directly into a post or siding
Use a nylon webbing strap to secure to a round tree trunk
Both options hold up an L-shaped bracket, which the bird feeder slides onto.
Does the smart bird feeder with camera require batteries?
Yes, the smart bird feeder with camera does require batteries. The camera contains a 3350Ah battery that works for up to 6 months, assuming about 200 photos or videos per day.
As an alternative to replacing or recharging batteries, a solar powered smart bird feeder option is available. This model will self-power using sunlight, as long as it's not placed in too shady of an area.
Is a subscription required for a smart bird feeder?
No, a subscription is not required for a smart bird feeder. The AI recognition and app are included with purchase. Photos are stored in the Cloud for up to 7 days.
A subscription is available, however, if you would like longer term Cloud storage. Alternatively, download photos to an SD card or share with your family instead.
How do you fill a smart bird feeder with camera?
Grab the peak of the top dome of the feeder and pull it forward
It will stop at about 90 degrees, revealing the seed canister within
Fill the seed canister to the top
Push the lid upwards, until it is back on top of the feeder
Since it's a large, gravity-fed feeder, it works well with a variety of seeds. Make sure to experiment with different blends to attract different birds.
Even larger foods like corn kernels and sunflower seeds, as well as tiny millet and similar are totally fine!
Additional Notes
App is iPhone and Android compatible
IP65 rated weatherproof design
Rated for use in temperatures between 14°F to 122°F and 0-95% humidity
Works with smartphones, tablets, and laptops
This sunflower bird feeder doubles as a bath for backyard birds' enjoyment

Original Sunflower Bird Feeder Outdoor - Flower Shape Bird Feeding Tray, Tiny Bird Bath, Garden Decor Stake, Ideal Gift Surprise for Nature Lover, Wild Bird Watcher, Kids and Children

A solar bird feeder might not take pictures, but it does illuminate at night!

XDW-GIFTS Solar Bird-Feeder for Outside Hanging Outdoor - Solar Powered Garden Lantern Light Bird-House Wild Hanging Birdfeeder Waterproof Unique Retro Mosaic Copper Bird Feeder (Blue-Green)

Décor or feeder? Why not both with an adorable tree face bird feeder?

Juegoal Bird Feeder Tree Face Decor Outdoor, Fun Old Man Tree Sculpture Yard Art Garden Decoration

Enjoy the wild birds inside your home with no mess thanks to this window bird feeder 

BestNest Clearview Window Bird Feeder

Make sure to show the butterflies some love, too, with a butterfly feeder 

The Finnish Butterfly Oasis

Made in Finland, this is the award-winning backyard feeder specifically designed for butterflies. Ideal for hanging on a balcony, tree branch, or garden stake, it holds nectar/sugar water in an integrated reservoir that can only be accessed by butterflies via small perforations on its exterior....