Nessie Ladle Set – There's a Loch Ness Monster in your Soup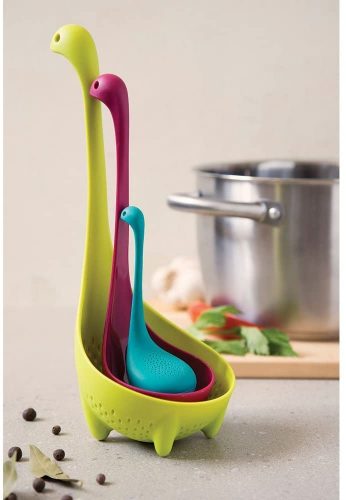 Have you ever heard the legend of the Loch Ness Monster? It's said that late at night, the monster rises from the water and steals your soup! No, yinz don't think that's how it goes? Oh, right, I'm so silly! The monster rises from the water and makes you tea! Don't look at me like that. My Nessie Family kitchen ladle utensil set tells the story a different way than you.
The Nessie Family kitchen ladle set features 3 unique Loch Ness Monster-shaped ladles. One is a traditional style for soups, the second is a strainer to use with pasta or vegetables. The last is a small tea ball, made for steeping your loose-leaf tea. Just stack these monster family ladles together.
The Nessie Family kitchen ladle utensil set brings the Loch Ness monster to your kitchen!
Award winning design studio OTOTO brings us this adorable Nessie Family ladle set. In the box, you'll find a set of three practical kitchen tools.
Mamma Nessie is a green color and works as a colander. Four little feet prop her in the sink, while her long neck lets her keep watch. Drain your pasta and vegetables with ease!
Next is the original Loch Ness Nessie, who serves as a soup ladle. The bowl base allows you to stir and serve not just soups, but stews, chili, and more. Her neck makes sure your hands stay cool, but also peeks out of the pot adorably.
Last is Baby Nessie, the turquoise color tea infuser. Place him in your hot water, and he'll steep your tea while his head peeks out from under the water – just like the Loch Ness Monster!
All three members of the Nessie ladle family are made from BPA free materials that are completely food safe. Baby Nessie is made of a soft, heat safe silicone. The other two utensils are crafted from a sturdy plastic.
All three pieces of the Loch Ness monster ladle set are dishwasher safe for easy cleanup. Additionally, all three pieces nest inside one another, for a compact storage solution!
The Nessie ladle family makes an adorable gift. They arrive packed in a rectangular box ready for wrapping. Consider giving these fun utensils for Mother's Day, as a housewarming gift, or even for Christmas.
They're not only practical kitchen utensils anyone will love, but they are sure to add smiles too. Kids and adults alike will love these fun, mythical kitchen helpers.
Additional Notes
Top 50 best seller on Amazon in Kitchen Ladles
4.7 star rating with over 900 reviews – people love it!
Combined dimensions are 10.43 x 3.15 x 4.33 inches and overall weight of set is 3.94 ounces
Ensure perfect soups and sauces with this automatic pot stirrer! Now you don't even have to keep watch!

SAKI Automatic Pot Stirrer for Cooking in White

Imagine leaving your pots unattended without worrying about burning your food. The Saki self-stiImagine leaving your pots unattended without worrying about burning your food. The Saki self-stirring pot utensil will gently stir your stews, soups, sauces, porridge & risottos, releasing the tastiest...

Pair up your Nessie with this Red Crab spoon holder, and take advantage of these helpful aquatic animals!

RED Crab Spoon Holder & Steam Releaser by OTOTO

Bring another useful and adorable helper home with the Splatypus jar scraper 

SPLATYPUS Jar Scraper Spatula by OTOTO

Take a tiny Nessie to work with this Loch Ness monster desk pet!

World's Smallest Loch Ness Monster Desk Pet With Nessie Tag Collected In Scotland