Prank Gift Boxes – Is it a Cheese Printer or Just a Prank Bro?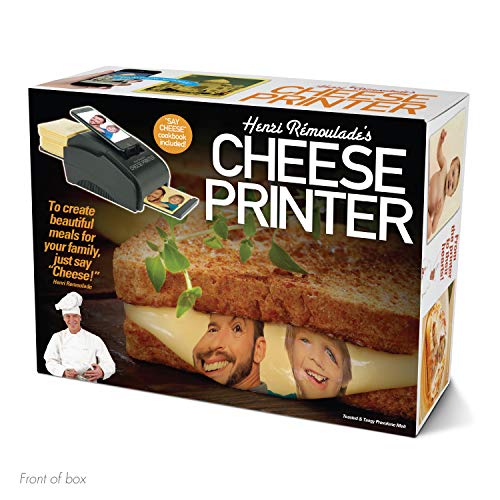 Why the heck would yinz buy me a cheese printer? If you wanted funny colored cheese you could have just checked the back of the fridge!  What's that? It's one of your prank gift boxes? If you're looking for a fun and unique way to give a gift to someone in a less than usual package, then read on!
Prank gift boxes allow you to wrap your gift in a joke box!
These prank gift boxes are sure to bring first confusion and then laughter to the recipient! This novelty item allows you to wrap your real gift inside a fake box such as the aforementioned cheese printer, or the hayneedle (the game of finding the needle in the haystack), spit 'n' slide (the race to the drool pool) and the turn 'n' churn – the travel ice cream maker that attaches to your car's hubcap!
These prank gift boxes focus on attention to detail! With detailed pictures and descriptions on the box, your recipient will surely believe you've given them the most bizarre gift imaginable! When they finally figure it out, it'll have everyone in the room laughing!
Made of 100% recycled cardboard, these boxes are eco friendly too!  Coming in at 11.25" x 9" x 3.25" they'll fit a variety of real gifts.  Best of all, they ship flat and are easy to assemble with no tools or glue needed! Please note this is an empty box that is intended for you to put the real gift inside, it does not include any ridiculous gift pictured on the outside of the box.
So if someone in your family has a Birthday or Christmas celebration coming up and you want to bring the laughs, grab one of these great prank gift boxes and enjoy the show!
Additional Notes
Has 4.8 Stars on Amazon with almost 300 ratings!
Ranked as a best seller in Gags & Practical joke toys
Somehow this is Amazon's top choice for "cheese printer"
Learn 7 creative ways to gift a phone to someone and really surprise them!
While you can't print on cheese, you can print on a potato and mail it with the Potato Parcel as seen on Shark Tank!

Happy Birthday Card Alternative. Your custom message on a real potato. Surprise Gift Box Included. As seen on Shark Tank!

If you're looking to add a DIY touch to your gift box, then check out this butterfly surprise explosion gift box!

XOXO Explosion Box with Designer Illustrations - Pre-Assembled Box with DIY decoration accessories - 5 Inch Cube (Sparkles)

When sending gifts to another country, find out if Customs will unwrap presents in our helpful guide
Want to know how to wrap tickets as a gift? We reveal 11 unique ways to do so and make your present memorable
Not only will you set up an amazing Dundies event, but the Office Party Planning guide will also give you a few secret pranks to try out!

The Office: The Official Party Planning Guide to Planning Parties: Authentic Parties, Recipes, and Pranks from The Dundies to Kevin's Famous Chili

Just add water to these Archie McPhee instant underpants and you can be prepared for any emergency!

Archie Mcphee Instant underpants. Just add water one pair

The Flik hand car light is a perfect gift for someone with a great sense of humor (and some road rage!).

FLIK ME Baby - Give The Bird & Wave to Other Drivers, Hottest Gifted Amazon Gadget