Flik Car Light – Flip the Bird to Bad Drivers or Give them a Wave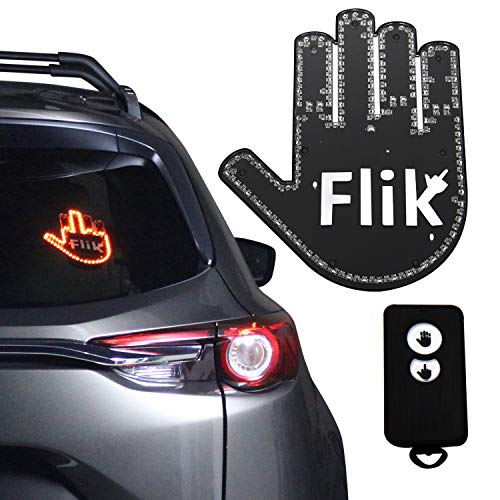 Watch where you're going, you jagoff! I tell you, some people really need to learn how to drive. Good thing I can tell them how I really feel thanks to the Flik car light that I got! So, what is the Flik?
The Flik is a hand-shaped LED light that attaches to your car window. Using an RF remote up front, you can illuminate either a wave or the finger, which is projected externally. It mounts with Velcro adhesive strips, and uses batteries to provide wireless power.
Tell other drivers how you really feel with the Flik car light!
I have to admit, the commute is the most stressful part of my day. Thank goodness for the Flik car light, so I can tell these other drivers how I really feel!
The Flik is a hand-shaped light that attaches to your car window. It works on angled surfaces like a hatchback but is equally resilient for vertical rear or side windows.
Attach the remote to your dashboard, making it easily accessible while driving or riding along. It's got a 45 ft range so feel free to drop it in your pocket at the tailgate too!
Toggle between an open hand "wave" if you're feeling friendly or thankful. I do appreciate you letting me merge! Alternatively, switch to displaying "the finger" when someone does something upsetting. It's the safest way to road rage!
An automatic brightness adjustment means the Flik hand light is easily visible during the daytime, but not blinding at nighttime. After all, I need to make sure I really get my message across!
Is the Flik legal?
The Flik is legal in most US states. It uses amber lights and does not flash.
For other countries or if you're not sure about your specific state, check your local traffic lighting laws.
How do you attach the Flik?
Here is how to attach the Flik to your car:
Clean and dry the inside of your window
Remove the backing from the adhesive strips on the Flik
Press firmly against the window, holding for 30 seconds
Repeat with the remote, adhering to the dash instead of a window
The strips are Velcro, which allow the remote to be picked up and the Flik to be removed for battery changing. Batteries should last 3-4 months on average.
Additional Notes
Requires 3 AA batteries (not included)
Rated 4.7 stars with nearly 1,500 reviews!
Not for exterior use, Flik is not waterproof
Remote battery is included
Works with tinted windows (better at night)
Can't do lights in your state? Go old school with these road rage signs instead!

MonkeyProof Bad Drivers Kit Cure for Road Rage Fun Adult Birthday Travel Handheld Signs Hand Held Clever Witty Sayings Messages Birth Day Xmas Gift

We all hate being stuck in traffic. Enjoy a mess-free snack to make it better with the Saucemoto dip clip 

Saucemoto Dip Clip | An in-car sauce holder for ketchup and dipping sauces. As seen on Shark Tank (2 Pack, Black)

The car trash can is an easy way to contain all the refuse in your car – like that apple someone just threw at you!

Reserwa Car Trash Can with Lid and Storage Pocket Leakproof Car Garbage Can Portable Auto car trash bag Hanging or Mounting In Car 2 Gallon Car Organizer with Adjustable Straps Storage Car Accessories

If the bird is the word in your home, then be sure to decorate with this middle finger candle!

Candellana Candles Candellana-Middle Finger Candle-Gold