Road Rage Bad Drivers Kit – Signs for All Driving Occasions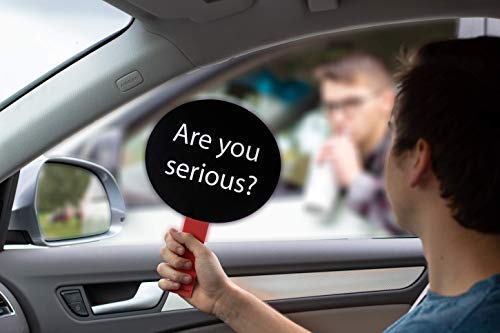 What do yinz mean I have a problem with road rage?  I don't have a rage problem – it's those other Jagoffs on the road swerving in and out of traffic, not using their blinkers, and listening to too much Justin Beaver! If you don't want to see a therapist, then these signs are the next best thing. These handheld signs with witty sayings can save you a lot of grief and court costs in addition to putting a smile of your fellow driver's face!
Keep Calm and Carry your Road Rage signs!
This may be difficult to achieve day in and day out on your daily commute, but picture this: a sunny day, as you leave your home, kiss the kids and your significant other, grab your lunch bag and off you go. How long does this happiness last? Not long, once you enter the parkway and meet all the inconsiderate drivers that shouldn't have a license (at least that's the way I view it!).
To make it better and avoid road rage, have this MonkeyProof Bad Drivers Kit on hand! Included are 7 handheld signs with clever and witty sayings. The signs are of high quality and not flimsy. They are the perfect way to let your fellow drivers know that you are not necessarily happy with them rather than using certain hand gestures, so try one of these to curb your road rage!
While the other driver may not see your sign, you'll still feel so much better, and your road rage will dissipate sooner(hopefully) so that you can get back to enjoying your day!
Additional Notes
Recommended for adult usage to relieve stress to yourself and others
If you've got a complaint, we've got a sign for that!
Instructions for Do's and Don'ts are printed on the box
Go high tech with your "signaling" thanks the the Flik car light!

FLIK ME Baby - Give The Bird & Wave to Other Drivers, Hottest Gifted Amazon Gadget

Never drive hangry thanks to this steering wheel desk which lets you work or eat in your car!

Cutequeen Trading car 1pcs Eating/Laptop Steering Wheel Desk Black(Pack of 1)

Don't hold back your feelings at home with this middle finger candle!

Candellana Candles Candellana-Middle Finger Candle-Gold

Wrap your cheese printer up in this prank gift box!

Prank Pack "Cheese Printer" - Wrap Your Real Gift in a Prank Funny Gag Joke Gift Box - by Prank-O - The Original Prank Gift Box | Awesome Novelty Gift Box for Any Adult or Kid!