11 Simple and Unique Ways to Wrap Tickets as a Gift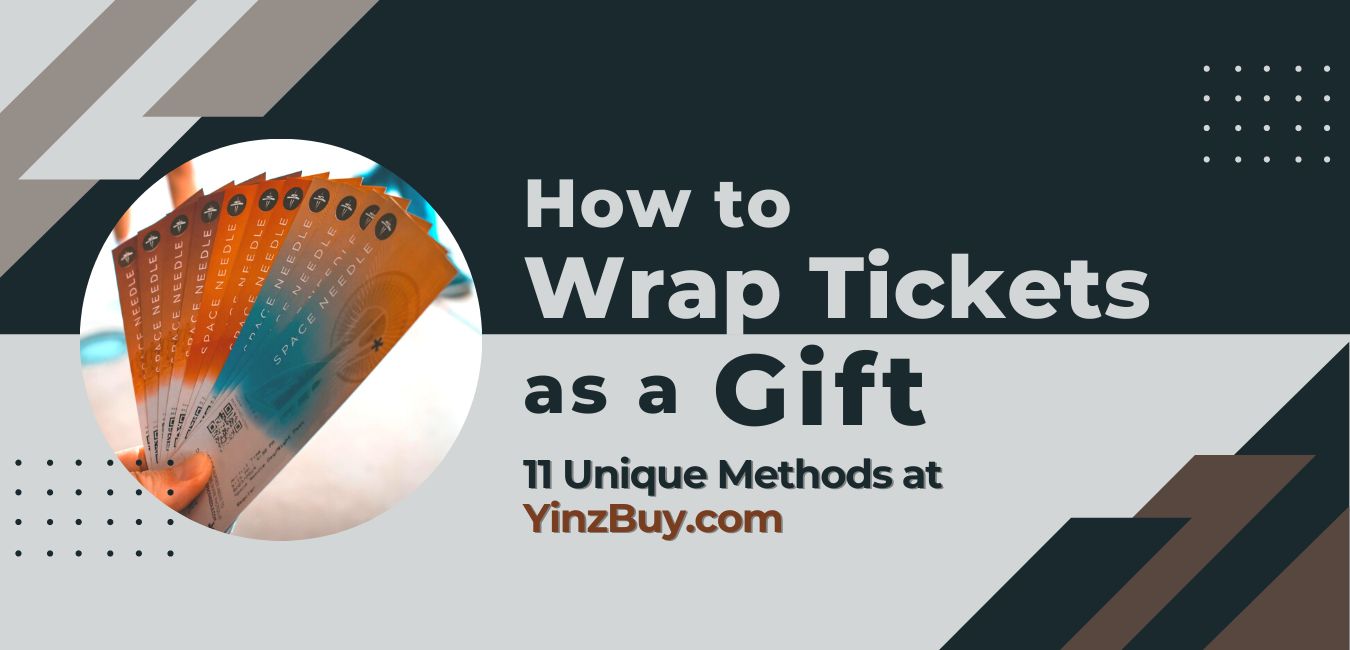 I think that one of the best gifts you can give someone you care about is the gift of time. By that I mean simply spending time together, and what better way to do that then with tickets to an activity? Of course, this leads to the problem of how to wrap tickets as a gift.
Let's face it – at the end of the day, you're dealing with oblong strips of glorified printed paper. Half the time, they're the same consistency as the paper you're trying to wrap them with!
To help you get back the gift of time well spent, we've compiled 11 simple ways to wrap tickets as a gift. With this problem solved, you'll be back out there enjoying the good times in no time at all!
1. Insert Tickets Into a CD Jewel Case
Inserting tickets into a CD jewel case is a really simple method of how to wrap tickets as a gift, and is basically two gifts in one! Here is what to do:
Buy a CD the recipient will like
Open it
Insert the tickets
Close the CD case
Wrap the CD jewel case with wrapping paper
Finish with ribbon and/or a bow
While there doesn't have to actually be a disc in the case for this method to work, I think it's an added touch when there is. 
Best for: This method is one of the best ways to wrap concert tickets as a gift, especially if you get a CD of the artist whose show you plan to attend.
RELATED on YinzBuy: Are Concert Tickets a Good Gift? Things you need to know first!
2. Use a Blu-Ray or DVD Case to Hold Tickets
Much like the first option, you could slide those tickets into a DVD or Blu-Ray case to make for a simple way to wrap tickets as a gift.
Simply repeat the steps from option 1 above, but substitute a movie of your choice in place of the CD.
If you'll be seeing a movie in a series, perhaps give one that came earlier, so the recipient can get a "refresher" about what's happened so far. If it's a standalone movie, pick something in the same genre to get them in the right frame of mind.
Best for: This is a great way to give movie tickets as a gift.
3. Fold Tickets Inside Merchandise
Another fun method to wrap tickets as a gift is to hide it inside merchandise. Some examples might be:
T Shirt
Coffee Mug/Water Bottle
Stuffed Animal
Simply place the tickets inside the other object you've chosen, and wrap that object. Not only does this provide an additional gift, but gives them something commemorative in advance so they don't get stuck at the gift shop!
Best for: Folding the tickets up inside merchandise is a great choice for concert, zoo/aquarium, sporting event, art gallery, and amusement park tickets.
4. Create a Themed Gift Box Including the Tickets
Make the process to wrap tickets as a gift part of a larger, themed gift. It could be as simple as a 'box of your favorite things' that are all loosely related.  Alternatively, it could be something related to the specific tickets you're gifting. Some examples I love are:
A popcorn bucket, filled with boxed snacks and movie tickets
Box filled with model-sized toys and tickets to a museum
Bottle opener, can koozie, and brewery tour tickets
Disposable camera, map, and train tour tickets
Best for: This method to wrap tickets as a gift works for nearly any type of ticket. Just pair it with items appropriately themed to what you intend to do for your activity.
5. Place Tickets in a Picture Frame or Shadow Box for Wrapping
Place your tickets inside a picture frame or shadow box, then wrap the whole thing as a gift. I love this method because it creates a place for you to add a photo from the event and keep the ticket stub, creating a fun memento.
If you're using a shadow box (Amazon link), you'll be able to add other things collected along the trip, such as:
Map
Playbill
Buttons or pins
Lanyards
Other small souvenirs
Best for: This is another option that works for most types of tickets. However, I love this idea for theater, amusement park, and zoo/aquarium tickets in particular.
6. Wrap Tickets In Another Box or Several
Probably one of my favorite ways to wrap tickets as a gift is by wrapping it in another box…or 10. I mean, there's so much joy in the hilarity of witnessing someone open a box only to find another box inside. They'll never guess what they'll find at the end of it all.
The other great way to use this tactic for how to wrap tickets as a gift is to put them inside a box for something completely different. It could be an old cereal box, or one of these fake gag gifts. Either way, it's sure to bring confusion, laughter, and smiles!
RELATED on YinzBuy: Wrap your present in an absurdly hilarious prank gift box!
Best for: Since you're just wrapping the tickets inside another box (or boxes), this method of gift giving is suitable for any type of ticket.
7. Insert Your Gift Tickets Into a Money or Puzzle Box
If all those boxes seem like way too much effort, how about you wrap tickets as a gift by placing them into a money or puzzle box?
These unique boxes are designed to conceal what's inside. The traditional money box has a pull tab that brings a plastic sleeve out of it, which can be filled with cash, tickets, gift cards, and other flat items. You could even hide it in a cake!
The puzzle box uses a maze that you'll need to navigate a ball through to release the lock. Successfully open it to reveal the hidden treasures within. You'll be pleased to know there's a flat slot for inserting things, so you won't need to solve the puzzle yourself to load it.
RELATED on YinzBuy: A Money Maze Puzzle Box is the clever way to give a gift!
Best for: Like the previous mention, this idea is also suitable for literally any type of ticket. Since you're just placing it in an interactive box for gifting, there's nothing to limit your options.
8. Place Tickets in the Middle of a Jar Filled With Candy
Placing tickets in a jar filled with candy or other small items is a super cute way to wrap tickets as a gift. You need:
Any glass jar (preferably with a lid, but a vase works in a pinch)
Tickets
Wrapped candies, marbles, confetti or other small objects
Hold the tickets in the center of the jar, and then pour the filler around them to cover them up! If you have a lid, pop that on and feel free to decorate with ribbon or a bow.
If you go the candies route, definitely get wrapped ones so you don't risk staining or streaking on the tickets. Trust me, that's awkward when you try to use them later.
Best for: We like this method for movie tickets (with snacks included), but it's also great for travel tickets or anything you'd give as a birthday gift. This is a fun and festive choice!
9. Hide Tickets Inside a Book
Books in and of themselves are pretty easy to wrap, so they're a great place to hide away tickets you'd like to wrap as a gift. Simply place the tickets inside the book. Place it on a page with a meaningful quote if you'd like, for added effect.
It doesn't need to be one of those books with a specialized, hollowed-out compartment either. Just tell the recipient you included a bookmark just for them!
The great thing about this method is that it doesn't have to be a traditional leather-bound book like you see gracing shelves in movies. Here are some unique options I like:
Guide book with travel tickets to that area
Novel that the included movie tickets are based on
Novel or playbill from a theater show with tickets inside
Comic book with the characters from an upcoming movie
As you can see, it's a versatile way to give tickets as a gift, and gives the recipient a chance to catch up on some reading while they wait for the date.
Best for: I think this is a great choice for movie, theater, and travel tickets. Though, feel free to get creative if inspiration for something else strikes.
10. Fill a Balloon or Tube With Tickets and More
Just like folks jamming confetti into giant balloons for a gender reveal, you can pack in tickets and more! Just get a giant balloon (Amazon link), some helium, and whatever else besides tickets you want to add to it.
Stretch the balloon open with both hands (you'll need two people for this)
Insert tickets, confetti, and other small items into the balloon
Inflate the balloon using helium (the stem should point upwards while you do
Once filled, tie off and attach balloon to a string/ribbon
You could also put the balloon in a giant box for a big reveal, but you'll still want to tether it so it won't accidentally float away when the box is opened.
If helium seems like too much effort to go through, apply the same concept to something that doesn't require inflating.
A spare shipping tube (from, say, a poster) can be filled with tickets and other knick knacks. Bonus points if they make noise to throw the recipient off! You can even give them the matching poster of their favorite band – sounds win win to me.
Alternatively, use a surprise tube to hide everything in a cake or cupcakes. Now you've got dessert for the occasion covered, and a cleverly concealed gift!
RELATED on YinzBuy: Serve dessert like never before with a surprise popping cake stand!
Best for: You should have no problem using this method for any variety of tickets. If you're giving tickets to a sports game, though, make sure to match the home team's colors in the confetti!
11. Pack Your Tickets In a Bag or Suitcase
Last but not least is another fun idea for how to wrap tickets as a gift. Instead of putting it in a box, though, you'll be packing it just like your luggage!
That's right, grab your tickets and pop them in a beach/travel bag, laptop bag, diaper bag, or a suitcase. After all, that's totally what those small zippered compartments are for, aren't they?
Wrap everything up and let your recipient enjoy not only their new travel gear, but also the gift of the destination.
Best for: I love this idea for plane or train tickets. However, you could also provide tickets for a place at the destination, such as a park or museum.
Conclusion
Well, that's a wrap! We've looked at 11 unique, yet simple ways for how to wrap tickets as a gift. I hope you've been inspired to plan some surprise adventures with your friends and family. After all, you've got the perfect way to give them all sorts of fun!
If you're still looking to get creative with your presents, we reveal 11 different ways to fill a gift bag without tissue paper!
Related Items
Here are some items that may inspire your ticket gifting adventures!
Not sure what to buy tickets for? This 100 dates scratch off poster has all sorts of activities for you to do together. Spoiler alert: tickets are required for many of them!

100 Dates Scratch Off Poster - Couple's Bucket List - Valentine's Day Idea (16.5" x 23.4")
A 50 states photo map is a great way to create a memoir of your adventures from wherever you go!

USA Photo Map - 50 States Travel Map - 24 x 36 in - Unframed - Made from Flexible Plastic - Includes Photo Maker
Use a leather travel journal as a scrapbook to store your tickets, photos, and written memories from any place you visit

Scrapbook Album,ZEEYUAN Travel Album Leather Photo Album"World Map" Vintage DIY Memory Photo Book 60 Pages Our Adventure Book Scrape Book for Birthday Anniversary Wedding
As noted on our Affiliate Disclaimer page, links to products inside this blog could lead to sales commissions (at no additional cost to you) which allow this site to continue operations.