50 States Photo Map – Display the Pictures from Your Travels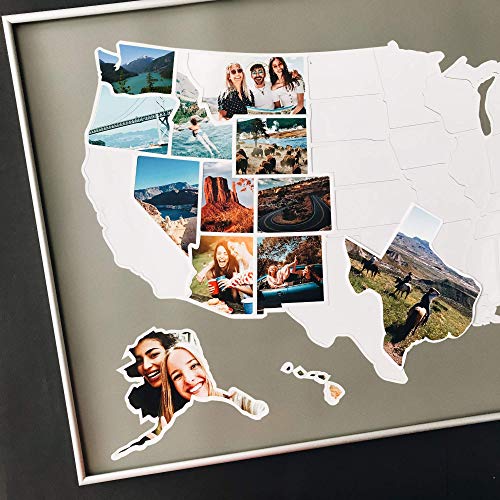 I know how much you like traveling, and I thought you needed a place to keep some mementos. So, I got you this 50 states photo map for you to display your cherished travels across the USA. It might even help you plan your next trip!
A 50 states USA photo map is a wall hanging that's designed to accommodate photographs. Pick your favorite photo from a trip in that state, and use the online template to size it appropriately. Once printed, stick it on the corresponding state with adhesive for an easy DIY memento.
Pictures tell a story, so show off your travels across the USA in this 50 states photo map!
This 50 states photo map is the perfect template for a DIY project that saves your favorite USA travel moments. You'll be able to choose your favorite pictures from your trips and customize them into this fun travel memoir.
The map itself is composed of two pieces. A white paper background is designed to hold all of your map photos. The top layer is plastic for durability and creates all the borders between the states once applied.
Both pieces ship rolled in a gift-ready tube which also prevents damage. Once unrolled, simply place in your favorite frame (not included) to flatten.
When you're ready to add your photos to the photo map you'll just need to use the template to prepare them:
Select the state
Upload your photo
Move, zoom, or rotate until the desired shot is achieved
Select the printing size indicated (4×6, 3×5, etc)
Check the orientation (horizontal or vertical) for the state
Print!
It's recommended to get the photos professionally printed. However, you can print at home if you have a quality photo printer that can produce 8" x 10" photos. Everything really is bigger in Texas!
Once printed and cut to shape, use the included double-sided tape to mount the photos on the bottom layer. Replace the top plastic layer, return to the frame, and hang it back on the wall to enjoy.
The 50 states photo map is a great addition to your own home, or a gift to anyone that loves to travel. It may even help inspire your next vacation, as you try to complete your collage!
Additional Notes
Only weighs about 1 pound, so wall hangers may be sized on frame weight
Top 5 best seller in Wall Maps on Amazon
Impressive 4.6 star rating with nearly 1,200 reviews!
You may also enjoy this world map shot glass display, with spaces for all your glassware from around the globe!

Reno Direct 52 Slot Shot Glass Display (Black, World Map)

Keep track of where you've been with a scratch off world map 

Scratch The World Travel Map - Scratch Off World Map Poster - X-Large 33 x 23 - Maps International - 50 Years of Map Making - Cartographic Detail Featuring Country & State Borders

Add a uniquely customizable display to your living room with this 3D wooden world map wall art 

3D Wood World Map Wall Art. Large Wall Decor - World Travel Map All Sizes (M,L,XL,XXL). Any Occasion Gift Idea - Wall Art For Home & Kitchen or Office

If you're really into building things, then try putting together this LEGO World Map which is the largest LEGO kit released!

LEGO Art World Map 31203 Building Kit; Meaningful, Collectible Wall Art for DIY and Map Enthusiasts; New 2021 (11,695 Pieces)

While traveling around the country, ensure your toiletries don't spill with these refillable silicone travel bottles!

humangear GoToob+ Refillable Silicone Travel Size Bottles with Locking Cap, 3pk Set, Clear/Purple/Teal, Large (3.4oz)

A leather travel journal is the perfect combination of diary and scrapbook that's easy to pack along!

Scrapbook Album,ZEEYUAN Travel Album Leather Photo Album"World Map" Vintage DIY Memory Photo Book 60 Pages Our Adventure Book Scrape Book for Birthday Anniversary Wedding

Share photos with loved ones in real time using the Familink digital photo frame – no Wi-Fi required!

Familink - 3G/4G Photo Frame for The Older Generation

Not sure if they're right for you? Learn if digital photo frames are worth it in our guide